Two questions have rocked the wholesale industry over the last two years: "What product do you have in stock?" and "When can I get it?"
These questions hit hard for retailers looking to purchase from footwear wholesalers during a time when the industry experienced high demand. Despite these challenges brought on by the pandemic, growth continues. In fact, the footwear industry is expected to grow by $42.06 billion (a compounded annual growth rate of 2%) during 2020-2024 alone.
As demand continues, and shortages and shipping delays increase, the need for meaningful, effective brand and retailer communication is critical.
"One thing I continue to hear from retailers is that communication from the vendor to the retailer has been horrible across the board," stated Brandon Gingerich, Director of Sales at Badorf Shoe Company. "Retailers aren't being informed of late shipments, out-of-stock products, or product backorders. That's a huge problem. They cannot plan their business when they don't know what they are going to get."
However, during this challenging time for retailers, Badorf Shoe Company stands out from the crowd by offering their retailers a B2B solution that provides clear communication and easy access both through the height of the pandemic to now.
Making the Switch to a Better B2B
Prior to the pandemic, Badorf had been looking for a B2B that not only makes their customer service team more efficient, but also allows their retailers to easily order, discover, and learn about their products.
While vetting several B2B platforms, Envoy B2B was a top choice for their easy-to-use showrooms, clean design, and features that make work more efficient for their sales reps. To gain a better perspective, Gingerich called 15 of their top customers to ask them if they would rather use Envoy B2B or one of their competitors.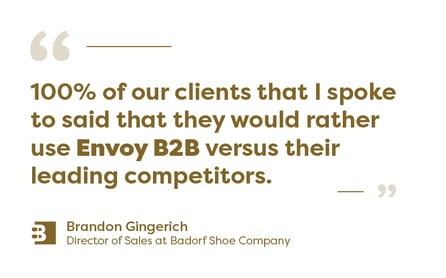 "100% of our clients that I spoke to said that they would rather use Envoy B2B versus their leading competitors," stated Gingerich. "That really gave us the confidence we needed to move forward with Envoy B2B."
A survey conducted by Badorf found that over 90% of their customers were using or have already used Envoy B2B. Knowing this made for a seamless transition to the B2B platform and in January of 2020, Badorf rolled out Envoy B2B to their staff and clients.
Communication Success for All
As March of 2020 came around, the pandemic caused waves in the supply chain, disrupting retailers' efforts to order products. Luckily, with the recent adoption of Envoy B2B, Badorf was able to provide smooth and efficient communication to their retailers about inventory and order statuses.
"We didn't want our retailers to wonder about their products. We wanted them to know. And we wanted them to know before they even had to ask. Envoy B2B allowed us better means of communicating with our retailers," stated Gingerich.
Immediately, the team at Badorf put together communication plans to keep their retailers informed. This was done entirely inside Envoy B2B by incorporating messages at login, displaying various product banners within their showrooms, and keeping their inventory up-to-date in real-time on the platform. As soon as Badorf received information about their products or shipments, they would harness Envoy B2B to inform their retailers.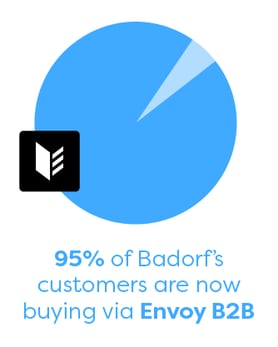 "Envoy B2B made it so much easier for us to communicate with our retailers. In turn, it made it easier for our retailers to find the information that they needed on their own," Gingerich explained.
With 95% of Badorf's customers now buying via Envoy B2B, Badorf is now able to easily inform almost all of their customers about their stock and shipments, with no lag in communication. This frees up time for their sales department. Instead of coordinating back and forth with retailers through countless phone calls and emails, Envoy B2B streamlines communication directly within the platform, allowing the sales department to spend more time nurturing growth.
Badorf's sales team now has more time to:
Check/confirm terms and conditions of orders
Import client orders into their system
Develop better relationships with their clients
In addition to their teams' ability to focus on nurturing growth, the time saved using Envoy B2B has allowed Badorf to further invest in cross-training opportunities for their employees.
"Pre-B2B, there were no cross-training opportunities for our customer service team members because of how swamped they used to be," explained Gingerich. "Now we can invest in our employees, making our company even more efficient in communication, staffing, and workload balance."
Envoy B2B has also enabled Badorf to do more business with their retailers.
"If we were previously out of something or had a delayed shipment, it would have fallen back on our customer service department to tell our retailers and work to coordinate a new product for them. That's time-consuming. Now, our retailers can check our inventory and receive updates on our shipments just by viewing the login screen, our showrooms, and our product banners. It takes a lot of stress off of our sales reps as they're now able to focus on the bigger picture."
After using Envoy B2B for almost two years, Badorf is able to reliably and effectively communicate with their retailers while increasing the efficiency and output of their sales department.
"We wanted a B2B to make our customer service more efficient, to increase sales, and to save us money. It's one thing to be sold something. It's another to be well supported — and we have been well supported through Envoy B2B this entire time. As a customer of Envoy B2B, I can tell you that they have delivered and followed through every single time," stated Gingerich. "If I had to do it over again, would I use Envoy B2B again? Absolutely YES with no hesitation."
To learn more about communicating with your retailers and empowering your sales reps through Envoy B2B, check out these resources: