Welcome to the latest version of Envoy B2B! As always, we work hard to understand what our clients want and where our industry is going in an effort to deliver the most modern B2B platform we can. This release brings with it a number of features we are excited to share with you, so let's dig in and see what's new!
Create Product Banners to Increase Sales
Product banners give you the power to highlight key product details. These banners are an effective way to call attention to products for your retailers and reps. You can apply a product banner by combining text and your choice of colors to make the banner stand out (or use an emoji). With product banners, you can communicate new products or best sellers. Highlight closeouts or products so popular they are now back in stock.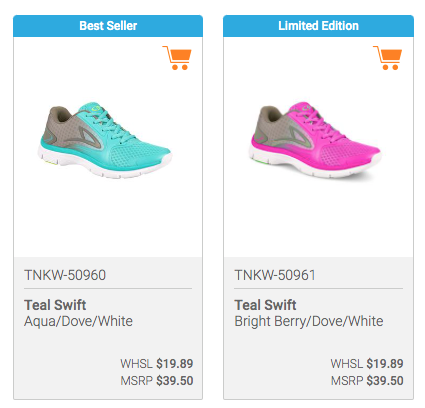 Here are a few examples of product banners and how they can help increase sales:
New Arrivals: Build excitement for your newest products.
Hot Products & Best Sellers: Call out hot items for your retailers.
Back in Stock Alerts: Let customers know a product was so popular that it sold out, but now it's back again.
Seasonal, Holidays, & Current Events Promotions: Highlight products around a season, event, or upcoming holiday. Those orange and black products would look good with a Halloween banner and pumpkin emoji.
Limited Edition Alerts: Get exclusive products to stand out for the limited time they are around.
Low Inventory Notifications: Lets customers know to place that order now or they could miss out.
Drive Clearance & Closeouts: Highlight products and give customers a last chance to buy them before they are gone.
Price Changes & Discounts: Show off the before price of a product.
Pack Quantity & Product Bundles: Quickly communicate that multiple units come with the purchase.

Add Inventory to the Assortment XLS Export
Reps now have the option to include product inventory on the assortment XLS download. When downloading the XLS there is a checkbox to include inventory. Once this is selected the assortment XLS's UPC tab contains both ATS and ATP inventory columns.
Visualization Updates
We've made visualization even better for our users. This has been a great tool for both the sales reps and their customers to visually merchandise products directly on a canvas. And we've added even more functionality to make it easier to engage retailers with beautiful merchandising experiences.
Updates to all visualizations:
Users now have the ability to add videos to visualizations.

Users can now multi-select objects on the canvas in order to change sizes and product details displayed all at once.

Grid lines can now be turned on and off.

A new snap-to-grid button has been added allowing users more freedom to place objects wherever they want.
Updates specific for order visualizations:
The order visualizations PDF has been added to the list of downloadable items when accessing Order Kit. This makes it even more important for your reps to build a merchandising plan for their customers, and easier for their customers to view them after placing the order.
To provide a visual reference for the customer, we've added the ability to display a summary of the product quantity and total per style. This was added to the product description options allowing the flexibility to turn off if desired.
Want to learn more about how Envoy B2B and how we can help your brand streamline your wholesale channel, adopt sustainable go to market tools, and digitally enable your reps? Get in touch!