In March of 2020, when Barry McGeough was hired as Wolverine Worldwide's global vice president of innovation, no one was expecting that the world was about to go into shutdown. Trade shows were canceled. In-person rep and retailer meetings were nonexistent. And yet, sell-in till needed to happen. Retailers still needed to replenish their inventory, stay on trend, and bring in new products. Just not in the same way they used to.
Prior to the shutdown, McGeough was tasked to grow innovation throughout Wolverine Worldwide. In particular, plans to launch augmented reality (AR) showrooms were being developed, following the trend many businesses and consumer were taking. A 2019 pre-COVID-19 global survey conducted by Neilsen found that augmented and virtual reality were listed as the top technologies consumers were seeking to use in their daily life. And Wolverine Worldwide knew this want was only going to grow bigger.
With COVID-19 forcing reps and retailers into finding new ways of working together, this fast-forwarded Wolverine Worldwide's plans to adopt AR showrooms as they looked to support their reps and retailers during sell-in.
"What was expected to be created and adopted within two years, COVID-19 turned into a five-month process," said McGeough. "However, the help of Checkmate, SeekXR, and Envoy B2B made it easy for us to create augmented reality showrooms that elevated how our reps supported their retailers digitally during sell-in."
What Wolverine Worldwide's AR showroom looks like
McGeough and the team at Wolverine Worldwide knew they needed an easy-to-use showroom that was simple to navigate, yet still provided a human, personalized experience for their sales reps and retailers. To meet this goal, they incorporated features that highly resembled physical showrooms.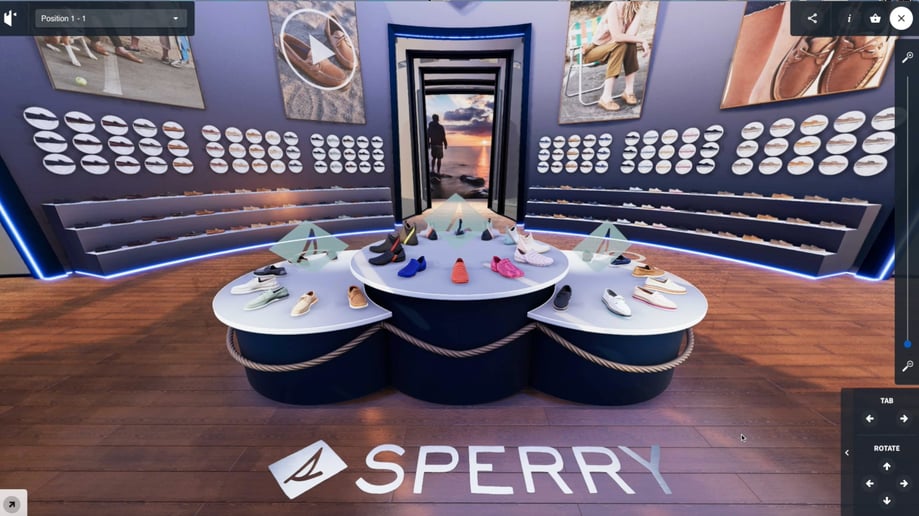 Features of their showrooms included:
9 view spots throughout the virtual showroom.
Easy ability to click on the showcased products to see a 365-degree view of the item, the description, the price, and the ability to add it to their assortment list or put it back on the virtual shelf .
A fully interactive AR experience through the use of QR codes on each of the products. These QR codes allow users to open the product up on their phone and see the virtual shoe in their current, physical setting using their phone's camera.
"Tool Tips" that enable hovering over each style of shoe to display exactly what style it is without having to click to see the entire product details.
Search and style functions that allow retailers to easily search the brand's database for particular styles without having to find them within the virtual showroom floor.
Easy assortment building capabilities right from the showroom.
An in-showroom shopping cart that is linked directly to Envoy B2B for streamlined ordering.
Creation of session links that allow reps to generate unique showroom URLs to share with their retailers. This link allows the retailers to see what the rep is clicking on and viewing within the showroom during a mirrored viewing session. This his enables the rep and retailer to be in the same virtual room without being physically together.
With many brands and retailers forced into digital interaction, recent Envoy B2B research found that retailers still crave communication and guidance from a connected rep. Wolverine Worldwide's AR showrooms were specifically designed to create a more human experience for retailers while still having the virtual features necessary to succeed in remote working styles.
How was all this made possible in just five months?
Envoy B2B worked closely with Checkmate and Seek XR, witheach company playing a special role in developing the virtual, augmented reality showroom in partnership with Wolverine Worldwide. And all of this was done in just five short months.
Here's how each company played a part in making this happen:
First, Checkmate provided and created virtual, shoppable showroom destinations made available in Envoy B2B.
Next, SeekXR was brought in to create, manage, and deploy 3D products within Envoy B2B.
Finally, Envoy B2B made 3D products from SeekXR available within its catalog, assortment, and ordering experience. Additionally, through an integration with Checkmate, Envoy B2B enables assortment creation from right within the augmented showrooms. This assortment can be captured as the basis for an order directly within Envoy B2B.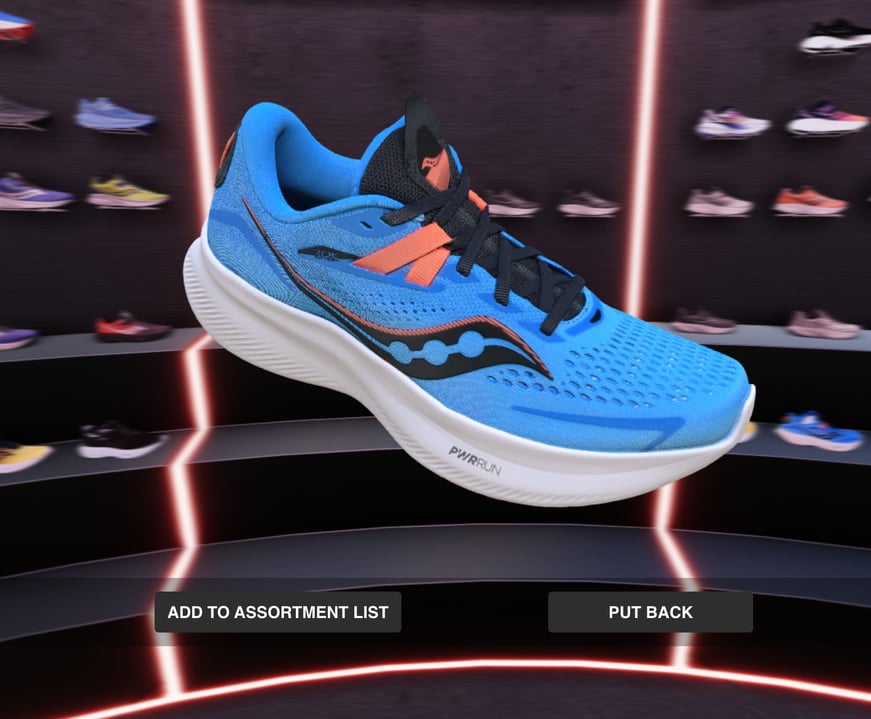 "With the powerful coalition between Checkmate, SeekXR, and Envoy B2B, we were able to build virtual, augmented showrooms that display both footwear and apparel for two brands and thousands of styles. Partnering with them significantly enhanced our B2B competency," said McGeough.
This partnership allowed Wolverine Worldwide to build and launch their first two augmented reality showrooms for both the Sperry and Saucony brands within five short months, while recently building and launching new showrooms integrating both footwear and apparel for additional brands in the portfolio in September of 2021.
Augmented reality is here to stay
According to ARtillery Intelligence, there were 596 million active AR devices in 2020. That number is projected to increase to 1.73 billion by 2024. Virtual and augmented reality experiences are here to stay — and not just as a quick fix for working virtually through the pandemic.
"The nice-to-haves are becoming the have-to-haves," stated McGeough. "People are now expecting to be able to try products on virtually, have a full description of the product at their fingertips, and interact with it within their living rooms."
McGeough went on to explain the endless possibilities of virtual and augmented reality showrooms.
"Now, instead of a rep bringing all of the brand's products to a meeting, AR showrooms allow them to hop on a plan with a few samples and an iPad to showcase their items to a buyer," said McGeough. "And if an in-person meeting isn't feasible, then they are easily able to be 100 percent virtual without losing that human connection to the rep or the product."
This means augmented reality is a sustainable alternative, allowing companies to save on shipping costs, resources, and time, all while reducing their own carbon footprint.
By continuously innovating and aligning with partners that understand the wholesale B2B world like Checkmate, SeekXR, and Envoy B2B, Wolverine Worldwide was able to create virtual, augmented reality showrooms that easily allowed their retailers to connect with their reps, purchase products, and maintain successful sell-in seasons.
"As the world starts to be more comfortable with digital landscapes, virtual and augmented realities will become more and more acceptable," said McGeough. "Overall, it's not the question of 'Do we need this?' It's 'When will we need this?' And the answer is now."