We've seen a lot of B2B e-commerce trends shape the way our industry does business. From the rise of putting your content & commerce together in one platform (we did that), to the importance of a buyer self-serve model (we did that too), to the recent need for virtual showrooms as a result of the pandemic (we had that covered as well). These trends have a habit of sticking around.
As a result of working with brands and retailers, along with extensive research, we can see some trends developing for the coming year.
Let's take a look at what brands are going to have to be ready for in the future, and why having a modern B2B e-commerce platform is critical.
Hybrid Is Here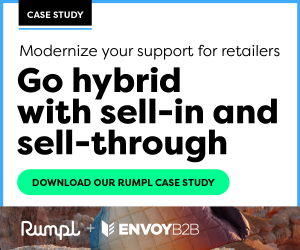 Over the last year, everyone has adapted their wholesale strategies. We've all had to get a little creative. As we shifted from in-person to virtual experiences, some new opportunities arose to harness B2B technologies for the better. And platforms like Envoy B2B became the cornerstone of growth for many brands.
But as we return to handshakes and in-store demos, it's clear that digital tools alone aren't enough. Retailers crave human connections. Smart brands have taken the digital tooling from their virtual experiences and used them to empower their rep teams, creating a hybrid B2B model. These brands can then harness insights and metrics they didn't have before, give their rep teams powerful new capabilities, and drive retailer success. Everyone wins.
Talking About Supply...
We're sure you've heard about the supply chain issues facing brands around the world. The outdoor industry is not exempt from this challenge. And the global slowdown in getting goods from the manufacturer to consumers will likely continue through at least the front half of 2022.
That means communication is key.
Brands will have to actively stay in touch with their retailers, be transparent about inventory, and provide real-time data on trending products. This will enable retailers to capitalize on available products and continue to reach consumers. This enhanced communication will be critical to everyone's success in the battle against the logistics of a decreased supply, even as outdoor activity and demand continues to trend upwards.
...And Inventory
The need for accurate and immediate inventory tracking is a trend that sometimes gets obscured by the supply chain issues. This one is simple, but important: Brands and retailers need to know what they have, what they don't have, what consumers want right now, and how fast they can get it.
That means having a modern B2B platform with a reliable window into that inventory data. And if brands couple this with an integration to companies like Locally, not only are retailers getting a clear view into what's in stock for replenishment, they are able to see real-time data about what's trending in their specific geographic area. This means they can discover a trend today, check up-to-date inventory levels, and order products to get on the shelf right away. Or better yet, use all the powerful data to delight customers with shop-online-pick-up-in-store experiences.
Keep It Simple
Coming out of a year of virtual experiences and too many digital destinations, retailers are clamoring for a return to easy-to-access B2B systems that let them get in, get the job done, and get back to their day.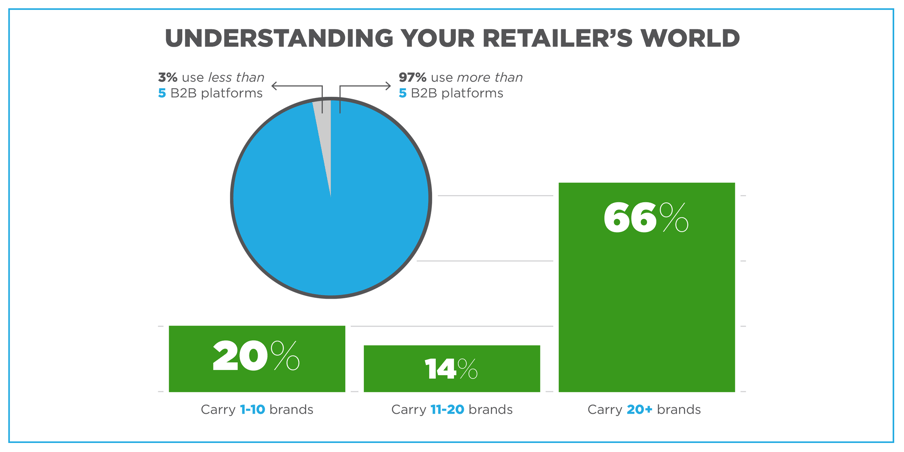 97% of retailers are in and out of over 15 different B2B platforms as they run their shops. That is a lot of different systems and methods to track on a daily basis. The more your brand can present a clear, easily accessible location for retailers to get in and educate themselves, build assortments, and handle orders, the more of your product you'll be able to move through that store.
This means a modern single destination, self-serve, digital first B2B e-commerce platform backed by an active rep team working with retailers for mutual success.
Keep Your Brand Ahead Of The Trends
Consumer demands, retailer expectations, and wholesale B2B strategies are always changing. At Envoy B2B, our passion is helping your brand stay connected to your retailers. We've worked hard to build a B2B e-commerce platform that stays ahead of the trends, allowing you to focus on what your brand does best and continue to grow.
We offer a powerful platform that lets you stay connected to your retailers as you build your hybrid B2B business model. We give you clear insight into inventory and consumer demand, and deliver simple tooling with powerful results. We know next year will bring a whole new set of trends that will push us to find creative solutions and deliver even more revolutionary features.
Get in touch if you want to learn more.