"We've been utilizing Envoy for 6 months and have had incredible results. The end user interface is extremely sharp and friendly. As the Netsuite Administrator, I'll admit that the Envoy/Netsuite bundle and integration is simple and low maintenance. I highly recommend it for any AFA customers out there."
-SuiteApp Review
Why Envoy B2B And NetSuite?
The Envoy B2B and NetSuite integration is a powerful, user-driven, connector based on feedback from real users, just like you. Our industry expertise, combined with our world class wholesale B2B e-commerce platform, makes for a seamless connection between the two systems. We've worked to make it a quick, modern, AFA focused solution for your brand.
How does it work?
First, it's a turnkey solution. No need to wait for months to get through a complicated integration. Your brand will be up and running with a full integration in as little as 2-3 weeks. We've got the fastest time-to-value in the market.
Second, Envoy B2B is built on forward thinking, modern ideas, influenced by feedback straight from reps, retailers, and brands. That means real-time order sync and inventory updates, with wide support. And it's all certified by NetSuite.
Third, when we built Envoy B2B, we did it with a laser focus on the apparel, footwear, and accessories industries. It's purpose built to work like your business, targeted around the needs of real AFA brands like yours.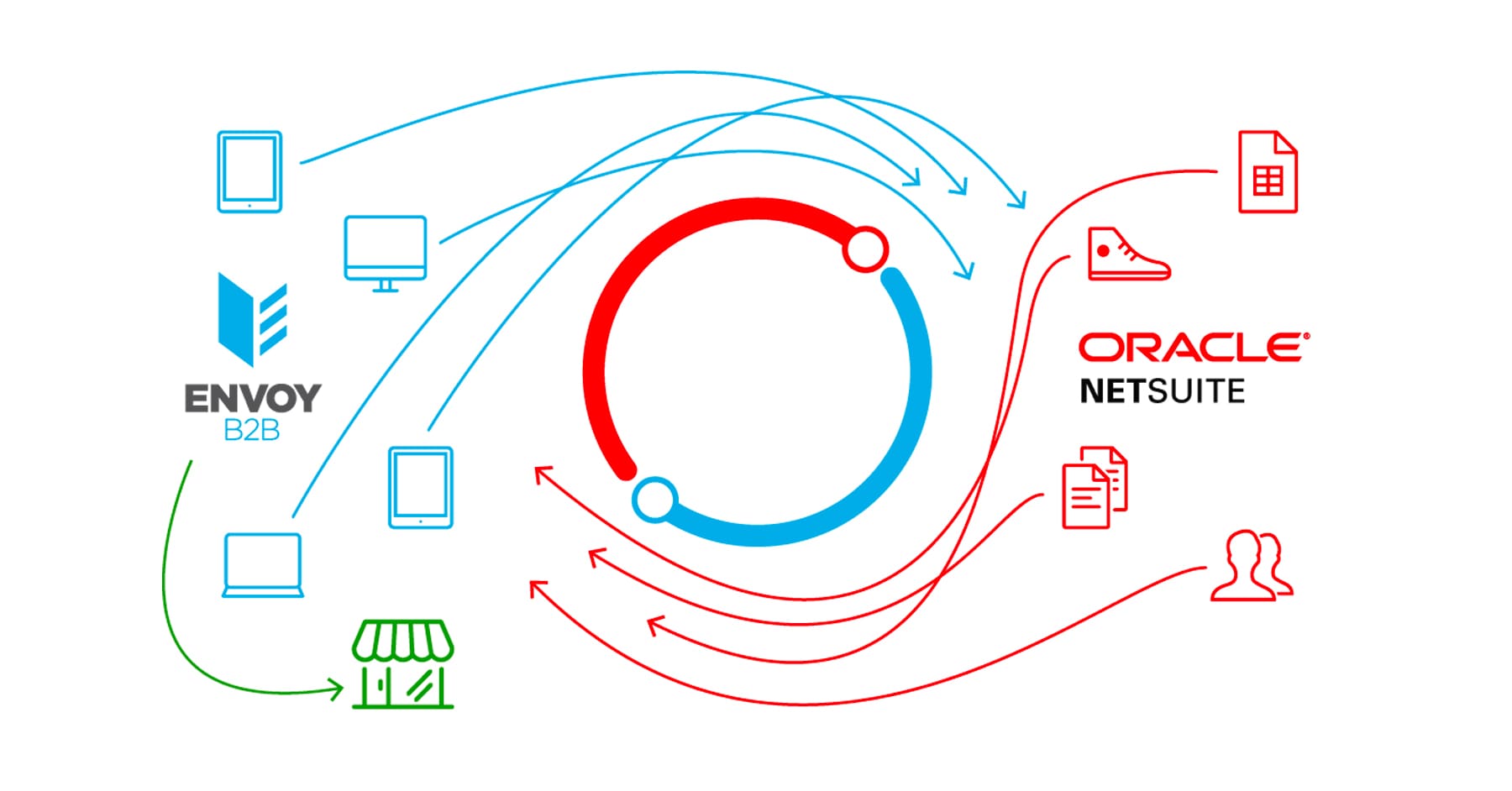 Connecting Envoy B2B And Netsuite
Most software providers lock your brand into a 12-16 week implementation. That means you have to wait up to 4 months before you start seeing a return on your investment. We know there's a better way. We get you up and running in just a few short weeks, with clearly delineated phases of implementation and a turnkey connector.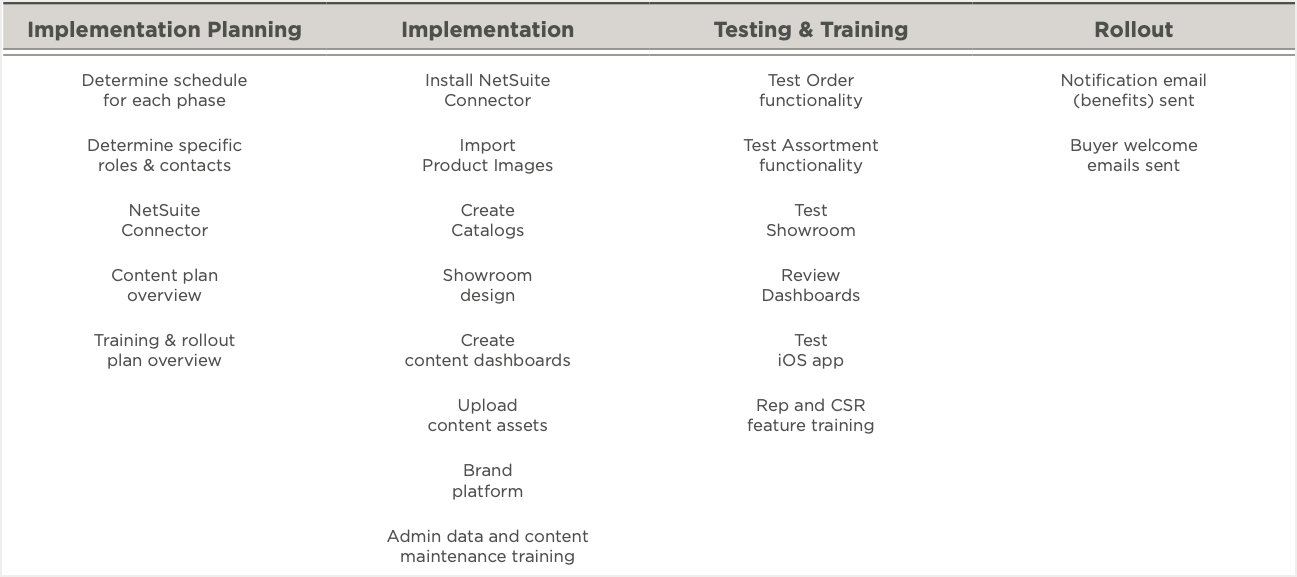 Phase 1 - Implementation Planning
We lay in the schedule for all phases, and focus on identifying what data needs to be imported, and what content needs to be created.
Phase 2 - Implementation
We take action on creating and importing data and content into the platform. It's also time to deliver simple training for your admins so your team can be a part of implementing the initial platform release.
Phase 3 - Testing & Training
We work alongside your team to test the implementation with data and content present. Training during this phase will primarily focus on educating your internal users.
Phase 4 - Rollout
Now that your platform is loaded with data and content, thoroughly tested, and your internal users are trained, it's time to welcome in your buyers. Let's execute that rollout plan and get to work.
The Results
Our implementation is really that fast! At Original Footwear, it took 4 weeks. At Howler Brothers, we did it in 2 weeks. Both of those brands went on to realize huge benefits once they were up and running. Original Footwear estimates that they'll save about 3 hours a day per rep once they've got most of their dealers on-boarded.
The team over at Rumpl have also been able to focus on growth since implementing Envoy B2B and connecting it to NetSuite.
Before adoption, Rumpl did everything manually with a small team of 13 people. Now, they will be able to streamline their order entry, easily create line showings, and have one central content sharing location. Instead of continuing with their manual processes, Rumpl's employees will be able to get back to what they do best – connecting with their buyers and introducing the world to better blankets.
Here's what the brands had to say:
"Rollout was seriously great, I couldn't think of a better experience. We rolled it out in 2 weeks, but it could have been a lot faster if needed. We are going to significantly reduce human errors and process more orders more easily now with Envoy B2B connected to NetSuite."
-Howler Brothers, Avery Nystrom
"Working with The Envoy team has been great, and we are excited about having it so tightly connected to NetSuite. This is a game changer for us."
-Original Footwear, Alexis Dean
"Envoy B2B will immensely help our company operationally. We wanted to automate order entry and easily create line showings without the manual labor behind it, but we didn't have the right system to accomplish that until Envoy B2B. We're looking forward to the time that we are going to gain back by using Envoy B2B. This will help us scale our business and provide a better retail experience for our partners."
-Rumpl, Patrick O'Neil
Some of the Brands Using Envoy B2B + NetSuite

Is Your Brand Ready?
Wondering if your brand is a good fit for our integration, and how long it would take? Take this quick questionnaire and we'll let you know!
Read More on Envoy B2B + NetSuite
Envoy B2B vs NuORDER: B2B Portal Comparison For NetSuite
Retailers Want Options: Knockaround + Envoy B2B Create A Partnership To Provide Personalization
How Biolite Uses Envoy B2B To Supercharge Its Wholesale Strategy