We live in a world where consumer personalization is at the core of everything. From the online avatars we create, to the shoes we design on a company's website, to the social media videos selected to play next – It's commonplace to be able to shape our experiences exactly to match our desires.
However, the same sort of unique, personal customization often gets thrown out the window when it comes to the retail side of things. Retailers don't always receive personalized experiences when working with a brands' sales reps. Instead, what is generally offered includes standard ordering systems, limited product options, and the need to conform to what's already set in stone by the brand within their order catalog.
But, retailers want options. And Knockaround is determined to provide those options by offering multiple product styles and a B2B that's crafted to their buyers' exact needs.
Offering Retailers Variety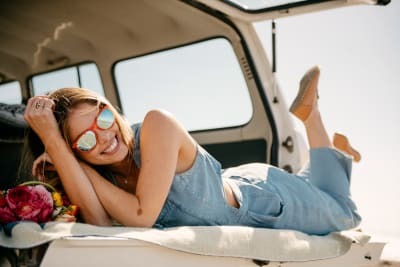 Since 2005, it's been Knockaround's mission to get people of all ages outside in affordable, durable, yet fun sunglasses. Ranging anywhere from $20 - $30, their sunglasses are available in 16 different frame styles (including sports and child options), a ton of different color combinations, with both standard UV400 protection and polarized lenses.
Because of their variety of sunglasses selections, Knockaround can serve multiple different industries. From surf shops, to outdoor specialty retailers, to boutiques, museums, and more, Knockaround provides affordable sunglasses options no matter what their retailers' target market consists of.
"It would be incredibly easy for us to bump up our margin, but that's simply not what we're interested in doing. At Knockaround, we are focused on offering fun, affordable sunglasses for everyone," stated Connor Morrison, Sales Manager for Knockaround. "Doing this provides us not only with options for our customers but options for our retailers as well."
Working with Retailers in the Way that Works Best for Them
While coming alongside retailers to provide options that fit their target market, Knockaround also understands that each retailer is different and has their own, personalized needs when it comes to working with their sales reps.
"Every retailer operates in a slightly different way. Some want to work with reps to place their orders. Others want to order online. Some want to look at paper catalogs. Others want their digital assets at the tips of their fingers," explained Morrison. "It can be really difficult to find a solution that fits all of those different needs. However, that void will be filled for our company with the help of launching Envoy B2B."
When it comes down to it, retailers don't have a lot of time. After surveying over 6,500 retailers, Envoy B2B found that 97% of retailers use more than 15 B2B platforms and 66% of specialty retailers carry more than 20+ brands. It was also found that the three largest problems retailers encounter when working with a brand include:
The brand having limited product availability
Problems getting products ordered
And inconsistent visibility to a brand's inventory
Knockaround wanted to implement a B2B that is built to solve these exact problems.
Previous B2B systems that Knockaround tried weren't robust enough, preventing Knockaround from showcasing their brand and delivering that stellar solution that their retailers are looking for. Envoy B2B solves those issues. Knockaround is excited to delight and engage their retailers with personalized tools like:
Visually merchandising while creating an order
Easy pre-book order capture
Quick replenishment orders
Real-time inventory availability
Digital catalogs, presentations, and storytelling assets
Easy content sharing abilities
Native mobile-first content and commerce app
Knockaround also plans to utilize the turnkey integrations with NetSuite and Locally that Envoy B2B offers.
"We've never had a B2B portal that has been able to provide all of the custom tools retailers need to succeed. However, the team at Envoy B2B really helped to customize this for us," stated Morrison. "With other B2B platforms, you end up paying for the service just to have the company wave goodbye and never help you again. However, I speak with Envoy B2B every single week. That level of support to create the personalization needed for our brand and our retailers is something we were really looking for when it came to switching B2B platforms."
A Personal B2B Solution for Brands and Retailers Alike
In a world filled with personalization, Knockaround gets it. For retailers to succeed at selling their brand, Knockaround needs to provide a B2B that's as focused on helping their retailers succeed as they are. This means tools and solutions that can be adapted to each retailer, enabling them to sell the season with confidence.
To learn more about Envoy B2Bs solutions and how they are tailored to retailers, check out the following resources below: