How do you create amazing rep and retailer-facing content experiences that have value during the sell-in and sell-through phases of the season? With Digital Press by Envoy B2B.
Historically, brands have had to use creation tools that existed separately from any B2B or go-to-market tools they have. Marketers had to rely on software like Adobe® InDesign to create product catalogs, or PowerPoint to create presentations and go-to-market stories.
We're changing all that with Digital Press.
Digital press is an advanced content creation and publishing tool that gives your wholesale team the power to create 'B2B-enhanced' experiences. Now, marketing and sales teams have the power to easily create new sell-in and sell-through content right in Envoy B2B using only their web browser.
Brands can create even more engaging experiences by leveraging product and customer data already in the platform. And, that same data makes it easy to ensure those experiences remain accurate and up-to-date, all while remaining flexible across the web, with easy exports to PDF, PowerPoint, and more.
How Does Digital Press Work?
Digital Press houses three main components: Studio, Viewer, and Publisher.
Studio
Brands use Studio to create flipbooks, look books, product catalogs, workbooks, promotions, line sheets, presentations, training materials, tech sheets, and more – right inside a web browser. The tools found in Digital Press feature the functionality you would expect from desktop publishing software, including full canvas control, drag-and-drop design, click zones, rulers, guides, hotkeys, templates, and more. It's fully featured design software, specially built to create B2B-friendly content.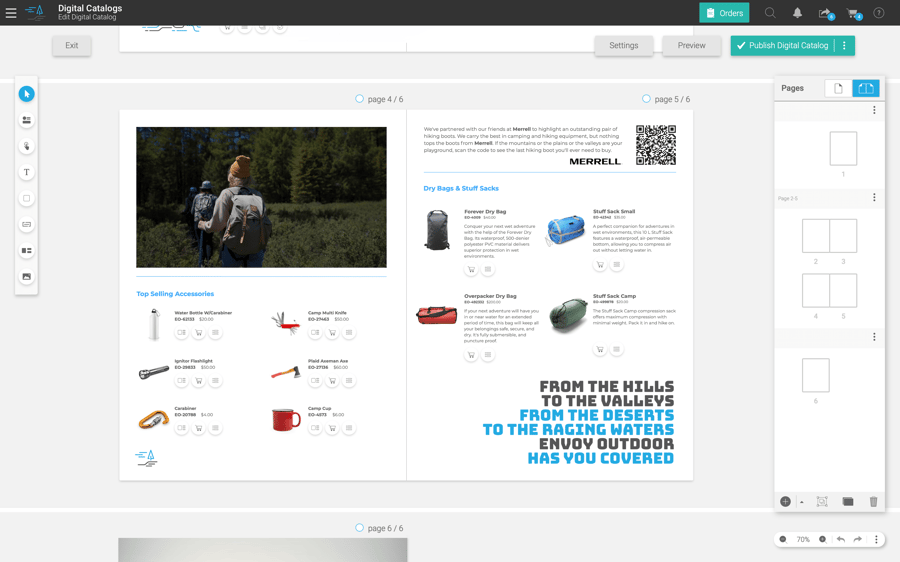 Viewer
Our powerful viewing tool delivers a beautiful, shoppable web experience with full viewer navigation and flexible export formats. The Digital Press viewer puts brands, retailers, and reps into a familiar flipbook browser-based experience. And, all of those experiences can be exported to PDF, PowerPoint, and others, as needed.
We've empowered reps with the ability to show and hide pages, rearrange them as needed, and even add custom pages. Now they can customize the experience for their targeted account.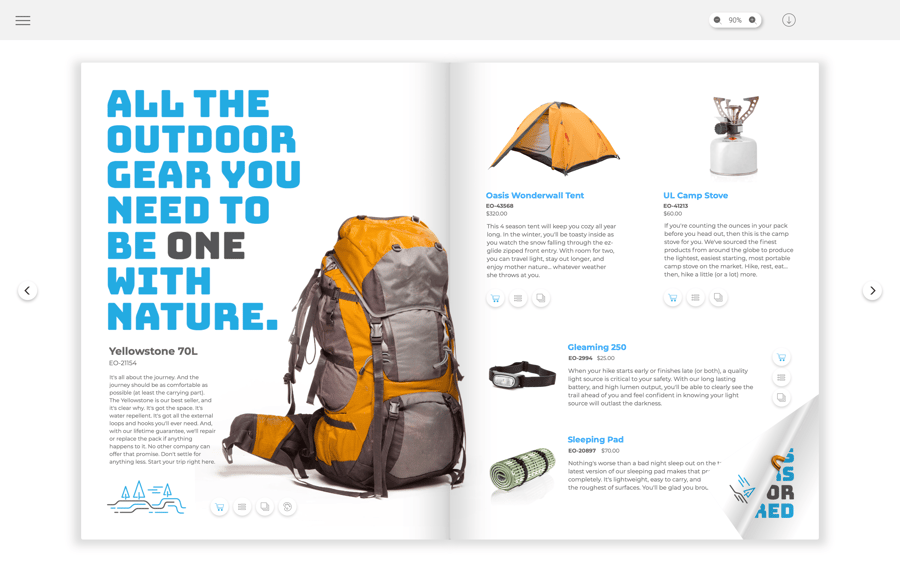 Publisher
Digital Press gives you full control over how experiences are viewed, shared, and managed with our Publishing component. Selective audience publishing, custom catalog permissions, customer segmentation, and engagement data are just a few of the features that give your team control over delivering content and measuring its performance.
The ability to track user engagement, understand your account's interests, and measure the effectiveness of your seasonal content is a key differentiator between Digital Press and regular desktop publishing software. It means you can tweak and fine tune what you've created so it's optimizing the connection between your brand, your reps, and your retailers.
B2B-Aware Content
Another key component of Digital Press is that it enables the creation of B2B-aware content. Digital Press is data driven, and will update experiences based on the single source of truth you provide. It's also customer-aware, and will show only the right products and prices to each account using the power of segmentation. This happens instantly and automatically.
Creating Better Connections With Better Experiences
Our goal with Digital Press is to support brands in creating compelling digital-first content for their reps and retailers. It's this powerful creation tool that gives our brand partners an optimal approach to sharing products and making it easy for reps and retailers to add those products to assortments or carts throughout their seasonal journey.
We are excited to see what our brand partners create with Digital Press!
---
Looking for more? We're happy to chat about all the ways Digital Press can improve your wholesale B2B content pipeline. Click here to get in touch.