Digital Press by Envoy B2B
Create B2B experiences and share them with your wholesale team and retailers
Digital Press is B2B content creation & management for brands
Studio
For creation and publishing.
Viewer
Our shoppable web viewer with exports like PDF, PPT, XLS.
Customizer
Tools for further customization by reps.
Easy creation right in your browser
Drag-and-drop creation: Using familiar tools, it's easy to build beautiful experiences that are powerful, engaging, and educational.
Shoppable: Every product can be added to a list or a cart. Say goodbye to static one sheets and catalogs, and hello to flexible, shopping-oriented, digital experiences.
Web and print: View the experiences on the web – flipbook style – and/or export to PDF/PPT.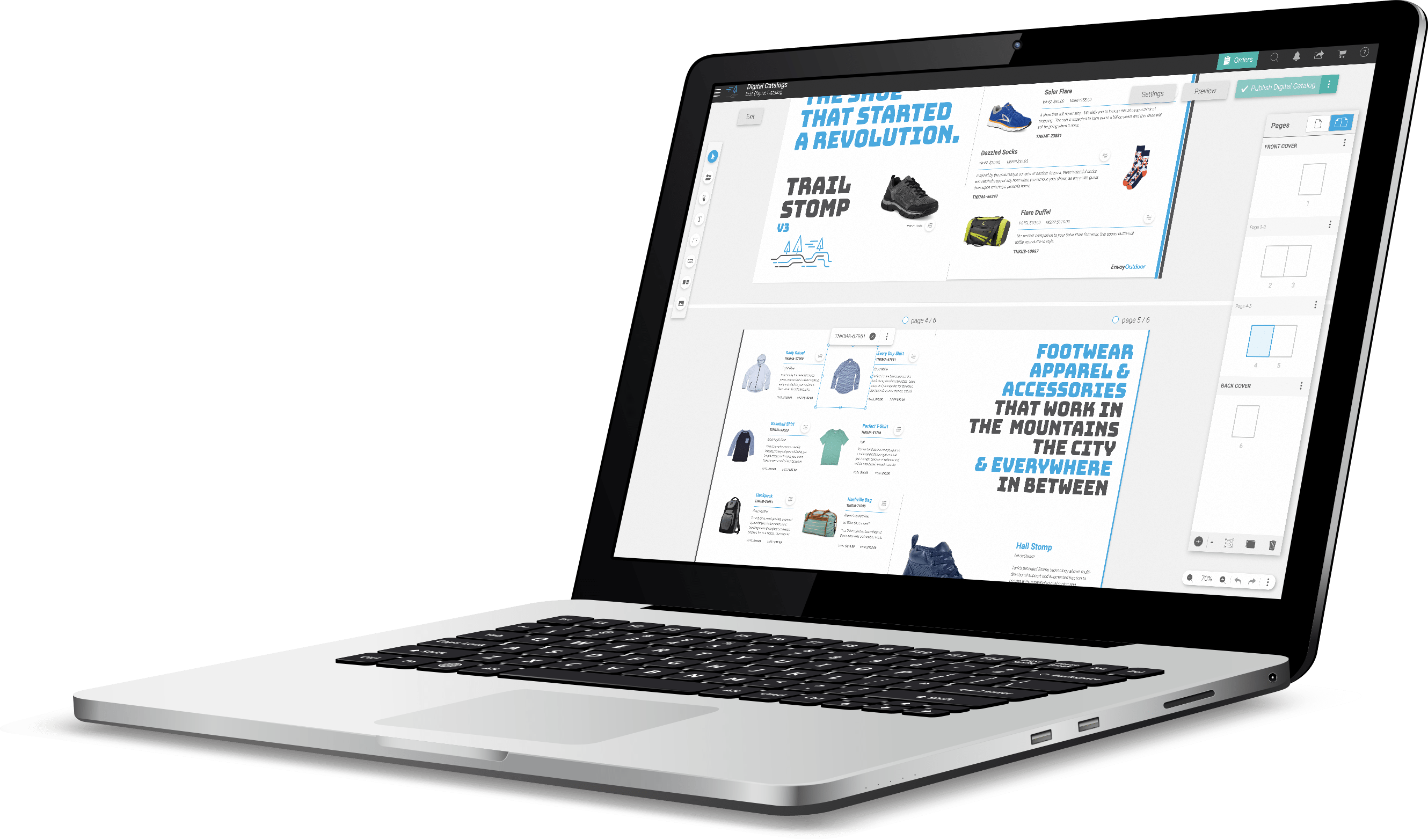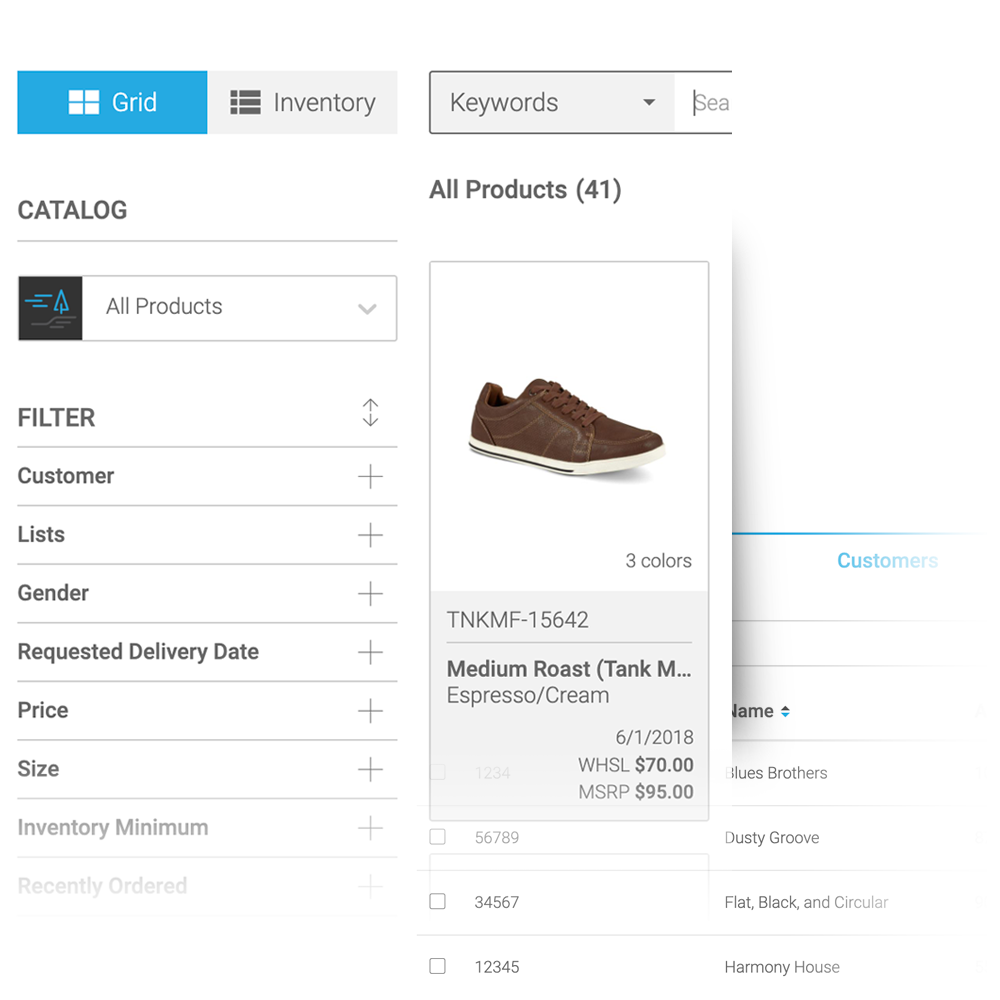 Digital Press experiences are accurate and B2B-aware
Manage product information, assets, and customer segmentation keeping everything accurate all the time.
Data driven: Update product data and images easily.
Customer aware: Use segmentation to show only the right products and prices to each account.
Digital Press experiences are order-ready
Customers can use the simple cart within Digital Press experiences to send you the start to an order as a PDF or XLS.
Give your retailers a simple tool to build product lists for easily creating orders from other systems.
Go further and upgrade to our complete ordering platform, Envoy B2B. Then, capture and submit orders directly from Digital Press experiences and fulfill them!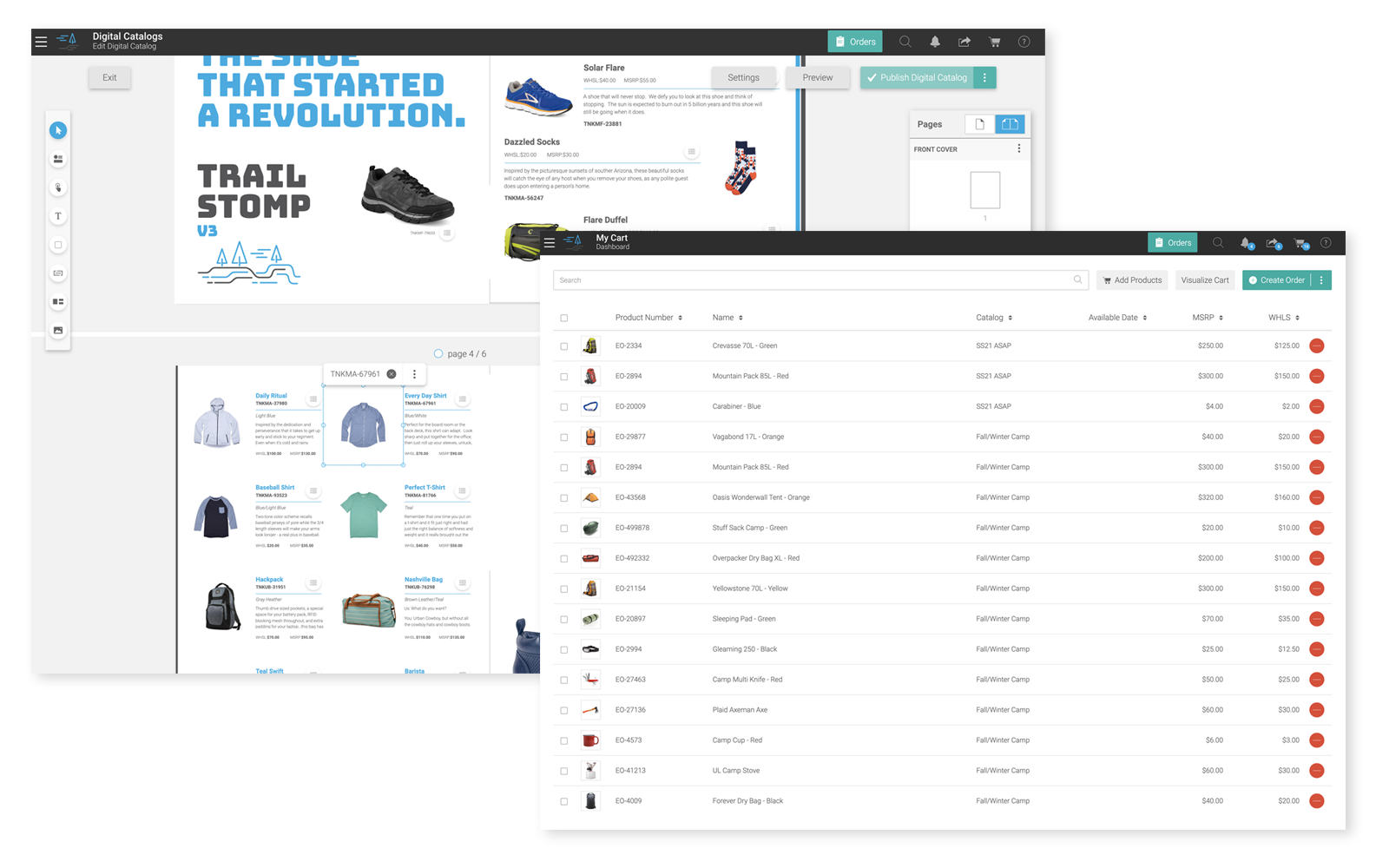 Manage your content while giving flexibility to your reps
Empower reps to customize experiences to each customer. Customization includes:
Track user engagement with Digital Press experiences
Understand account's interests and the effectiveness of your seasonal content.
Reps can see their accounts engagements on the insights and activity dashboard in Envoy B2B.
Download reports showing performance of each digital press experience.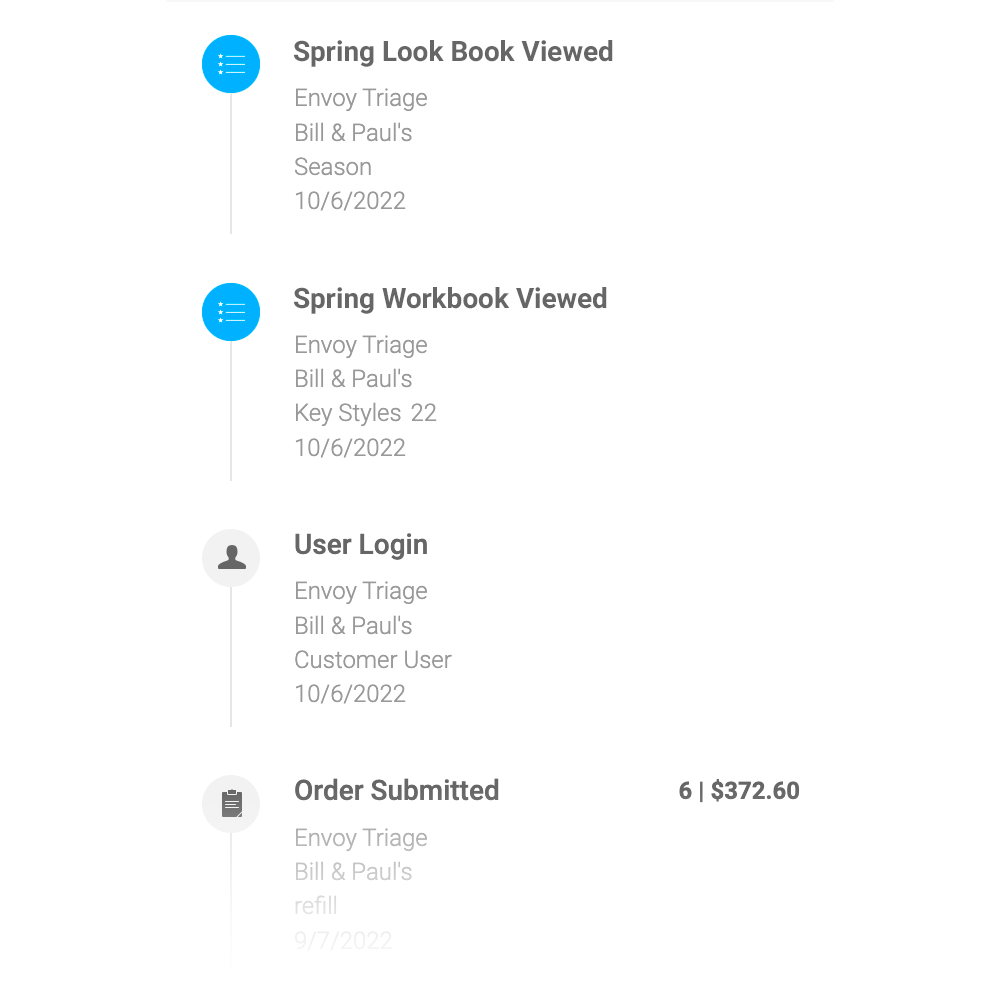 FEATURES
Digital Press is an advanced content creation and publishing tool that delivers 'B2B-enhanced' experiences
Create flipbooks, lookbooks, product catalogs, workbooks, promotions, line sheets, keynotes, training materials, tech sheets, immersive Showroom experiences, and more.
Digital Press includes:
STUDIO
For creation and publishing of digital B2B experiences.

Creation:
Canvas control

Group, reorder, align, and distribute
Rulers
Guides
Hotkeys
Page size and orientation

Design elements

Pages
Drag and drop design
Styled text
Click zones
Page links
Shapes

Product objects and product view

Product images
Product colorways
Product fields
Check boxes (uniform feedback input)
Buttons (product details, alt images, add to cart, add to list)
Ocavu 3D objects
Ocavu QR codes

Template control

Create templates
Publish templates
Manage all Envoy B2B exports
VIEWER/CUSTOMIZER
Our powerful shoppable web browser delivery with popular exports like PDF, PPT, and Word.


Digital Press viewer:
Beautiful web experience

Viewer navigation and search
Familiar and flexible format/swipe

Shoppable

Compatible with Envoy assortments, lists, and order workflows

Flexible outputs

PDF/PPT/Word
Print and desktop ready

Elevate Envoy B2B

Assign experiences to showrooms
Assign experiences to catalogs
Assign experiences to content dashboards
Customizer:
Customizable by reps

Rearrange pages
Add custom pages
Hide pages
PUBLISHING
Full control over how experiences are viewed, shared, and managed.


Publishing and management:
Publishing control

Preview before publishing
Selective audience publishing
Manage access/availability
Custom catalog permissions

Manage products and assets

Single source of truth
Advanced product meta data

Customer segmentation

Availability and pricing
All order permissions

Session engagements

See total sessions for each experience

Insights and activity

Reps can see when accounts access experiences
START CREATING EXPERIENCES TODAY!
Digital Press works with Envoy B2B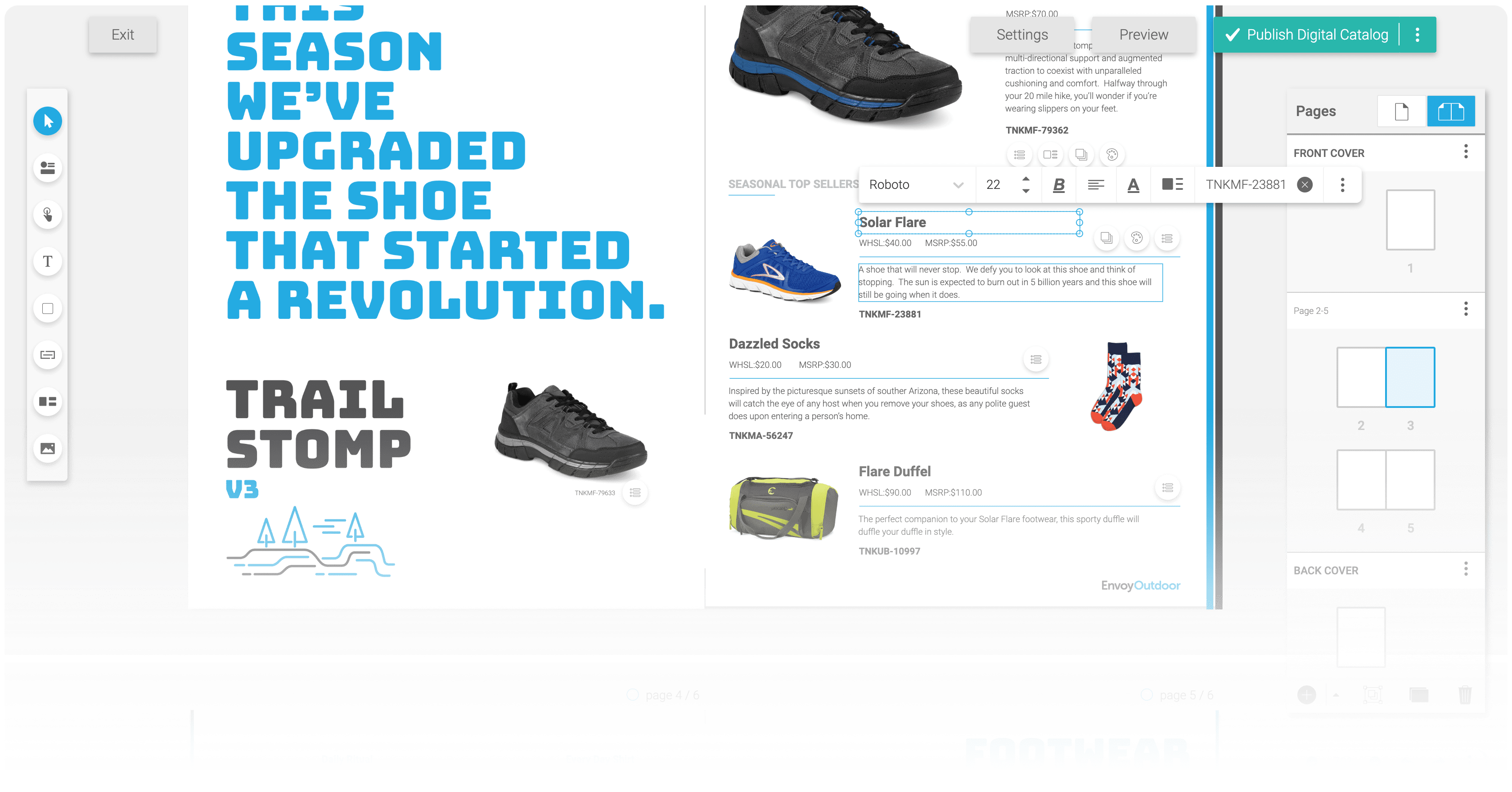 B2B content, publishing, e-commerce, order capture, and payment. Go beyond your B2B with efficient customer centric shoppable experiences. Content and commerce, all in one place.