It's time for another quarterly release! V21 is here, and it brings a ton of new features with it. Read on to discover what's new in Envoy B2B.
Public Showrooms: An Open Digital Destination For Prospecting New Buyers.
Looking for more accounts? Give your team the support they need to succeed with digital prospecting tools. Because a digitally enabled rep can kick open more doors and put the right product in each store.
Public showrooms are visible to anyone with the link, which means a 24/7 content destination for your team to leverage with their prospects. You can create as many of them as you like and see the engagement users on each of them. Interactive content, educational materials, product showcases, promotions - Showroom has it all. It's a powerful tool that your team can use to build excitement with their prospects and accounts, and create evangelists for your brand.
Allow a prospect to view your interactive showroom experience, catalogs, and book a meeting or become a retailer, all without bothering them to register and log in first. This is the perfect destination and companion to your new digital prospecting and trade show strategy.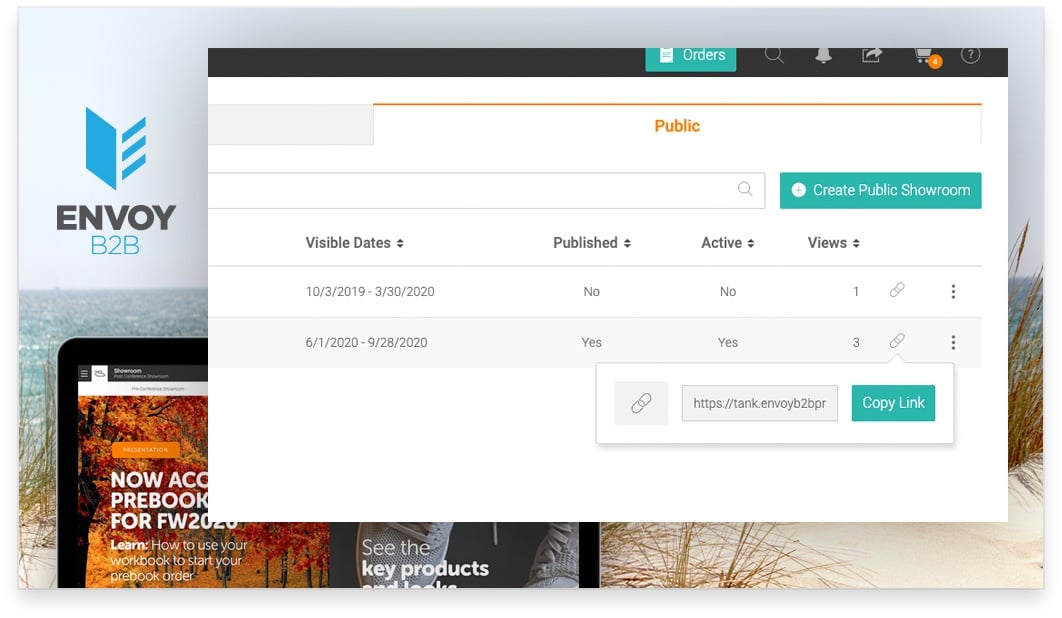 Setup unique showrooms for each of your retailer acquisition campaigns
An open, no barrier, no login, showroom experience.

A destination for your sales team to impress prospects and onboard them for a line showing.

A place to host your outbound digital prospecting campaigns.
One digital booth, many shows
Showcase your brand and drive buyers to book meetings or become a retailer.

Use public showrooms to amplify your listing at online trade shows.

Get smart and track public showroom views across all trade shows in one place.
Catalog Marketing Ad Banners
The new marketing ad banners in a catalog are just a little bit of value-add, but it's enough to enable you to position your important marketing messages right within the purchasing experience.
Banners can be added to the top of a catalog and the top of each category in a catalog.
A few marketing ad banner use cases:
A banner promoting a new category of product.

A banner promoting an upcoming event you'd like buyer's to attend.

A banner promoting a special discount or promotion.
PayNow In NetSuite
For those brands that use the NetSuite integration, you now have the ability to set up payments upon order submission.
A few NetSuite PayNow use cases:
Leverage this new feature to collect payment right away with new buyer's.

Collect payment immediately on replenishment orders.
New Sales Rep Report
Your brand needs an actively engaged rep that's educating retailers, helping them build smart orders, and working to increase sell-through all season long. You need a digitally enabled rep so you can keep track of their activity all season long.
See which of your reps actively use your B2B.

See what orders are created and the average revenue per order.

See how much revenue each rep is associated with versus a previous period.

See how many new retailers a rep brings on and the revenue associated with each.
Want to learn more about how you can streamline your wholesale channel, adopt sustainable go-to-market tools, and digitally enable your reps? Get in touch!