So your trade show was cancelled - what the heck do you do now?
Within the last month, there has been some big waves on the trade show circuit. First, the Fall and Winter shows for Outdoor Retailer got combined into one January show, and then Surf Expo was cancelled due to Hurricane Dorian wreaking havoc on the East Coast. If you're a brand that planned to exhibit at either, or maybe even both shows, there's been a wrench thrown into your plans. Now you have to scramble to figure out how to replace that valuable face time with buyers, and the anticipated orders you were going to book.
While it's a major bummer that the shows got cancelled, it proves that now more than ever is the time to invest in a digital wholesale strategy. Not only is it a great tool to engage buyers outside of a trade show, but it also can help you with engagement before, during, and after the trade show.
In this blog, we'll discuss some of the tools available in Envoy B2B that can aid your trade show efforts.
What's The Purpose Of A Trade Show Booth?
So what's really happening inside of your booth at a trade show, anyways? You're inviting potential buyers inside to educate them on your brand and story, showing them the line and highlighting some key products, doing some merchandising and line planning, and hopefully at the end of it you're collecting an order, or at least sending them off with some takeaways.
We've designed our platform to offer a very similar experience to that.
When your buyers land in your personalized Envoy instance, they experience what we call Showroom (basically, a virtual booth). It's a thoughtfully designed destination where they get the full download on the brand story, new products highlights, direct access to your catalogs, and the best part… it's shoppable and trackable on your end.
Just like you put meaningful thought into the design of your trade show booth, you can do the same with our Showroom, and you can do it for each season.
Leverage Your Assortment Campaigns
Assortment campaigns let you drive engagement before, during, and after the show. Even when the show is cancelled!
Assortment Campaigns in Envoy B2B allow you to create a unique group of products based on a certain need - it's basically a custom catalog, but built to fit the flow of an in person meeting. In this case, it could be all of the products you plan or planned on featuring at the show.
Once the template of products has been created, including some branding elements to personalize it, you can blast it out to multiple buyers at a time through a campaign. The buyer receives an email with an invitation to view the assortment in platform. From there they can scroll through the products, choose their favorites, merchandise the order, and go all the way through with creating and submitting it. You can even pre-merchandise the assortment for them so that they can see which styles and colors look good together.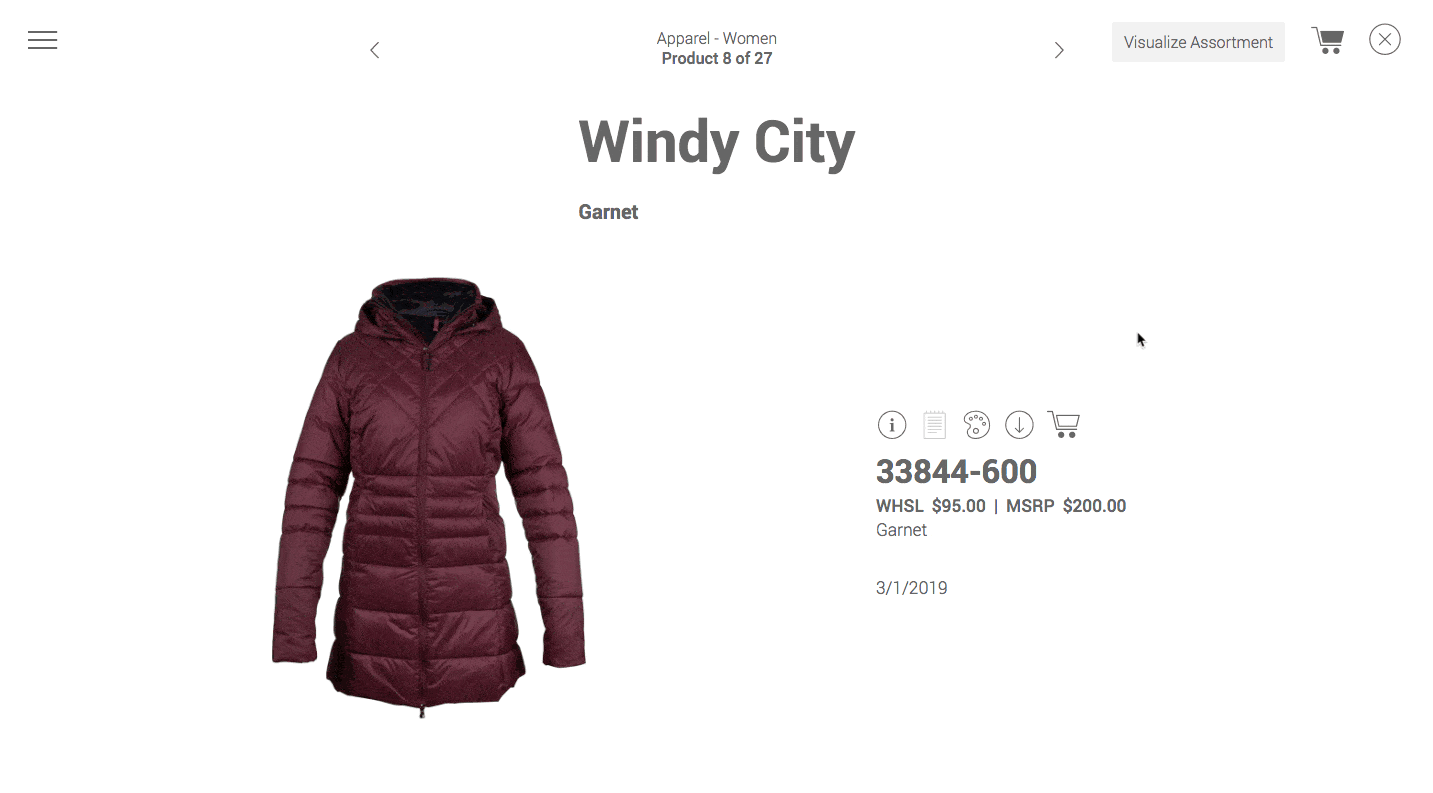 On your end, you get all of the valuable data as your buyers interact. Who has viewed the email, who has opened the assortment, which customers have created orders from it, and how many total dollars the campaign has generated.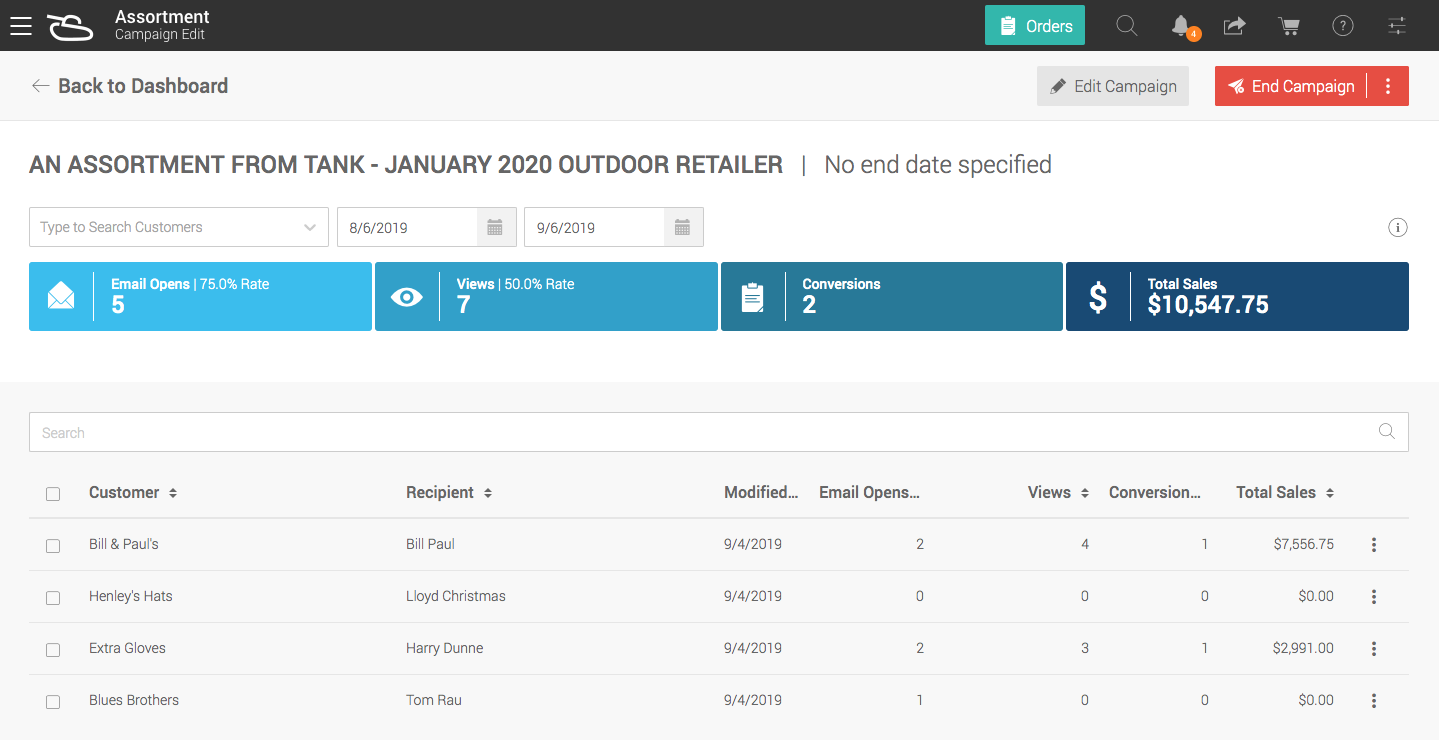 Even if the trade show doesn't get cancelled, sending out an assortment before the show can be extremely valuable for engaging your buyers before the meeting. It brings your conversation right to the point - line planning and ordering, which can be done from our iPhone/iPad app.
But How Do I Engage With Buyers?
There is no exact replication for meeting new buyers in person. No doubt. However, being present at the show isn't the only way to meet those buyers.
We live in the age of information and data. You can utilize LinkedIn, use white pages, take advantage of rep agencies to leverage existing connections, or even purchase lists of retail buyers. Depending on the trade show, they might even provide you with the contact information of the buyers that registered.
Point being, a trade show floor isn't the only way to "meet" those buyers. Once you've found your buyers, invite them to your content destination.
The trade show might be cancelled, but you can still go beyond the booth and utilize all the assets you've created for the show. Get your buyers engaged with Envoy B2B's showroom. Educate them on your new products, what's hot, best fit orders, and any promo's you run to take advantage of this opportunity. That show might be cancelled, but you can still capitalize on the buzz and turn lemon's into lemonade.
But We Don't Have A Content Destination!
There isn't much you can do outside of sending a traditional email if you don't have a platform to invite them into. It's a cold engagement, and one they are probably getting from a bunch of other brands. It's a bit of a pickle.
Fortunately, we've built a solution already. In Envoy B2B, we've created a feature that we call 'Share Queue' that can help with this.
One of the key benefits of our solution is the content management capabilities it offers. Along with all of that content comes the ability to share it with both existing retailers in the platform, or ones that you're targeting. You can queue up assets such as the assortment you created for the show, a brand story (video, PDF, etc.), lookbook, etc. and directly share them. The user receives an email that allows them to download those assets, but also gives them an invite to your wholesale site. Now they can experience your Showroom, shop your assortment or catalogs, and place an order.
Best of all, it's not just an email with some files. It's an invitation to an experience much like when they would step into your trade show booth.
Envoy B2B Can Help
For a large brand, having a trade show cancelled might not be a huge deal. They likely have a B2B and an established group of retailers to lean on. For a newer brand trying to cut their teeth in wholesale, it could kill their pre-order hopes for the next season.
But don't panic just yet! Instead of scrambling to make up for the lost opportunity, give us a shout to see how we can help - whether the next show gets cancelled or not.