A closer look at how to use Envoy B2B at the critical "Collaboration" and " Buy" steps of your retailer's journey to buy product from your brand each season.
It's impossible for any brand to deliver premium services to their retail partners without modern digital cataloging and merchandising tools. A premium buying experience that truly connects a retailer with a brand, creating a loyal community, can only be delivered through your brand's wholesale B2B e-commerce platform.
As we've waded through numerous changes over the last year and a half, it's become clear that a hybrid B2B sales model is the most effective method of supporting your retailer partners. While the best merchandising and order planning experience you can offer is face-to-face, because most retailers want to touch and feel the actual product. However, brands that harness their B2B's digital tools to support the collaborative merchandising step of the buying process benefit from deeper collaboration and a smarter, more process forward buying journey.
Additionally, those brands will be working uniformly across all their retail partners, regardless of whether the experience is in-person or through the use of digital tools like Envoy B2B. That uniformity of experience pays dividends in time saved, less mistakes, and greater engagement – all of which lead to growth.


---

The role of the digital catalog and visual merchandising at the buying table
In-person or virtually
Before your brand's meeting, it's important to set your team up for success. Give them access to a flexible digital catalog, and a simple way to uniformly present a workbook of your seasonal story and product offering. Building these digital catalogs inside your B2B empowers your brand to control the aesthetic, while giving your reps an easy tool to offer a dynamic, always up-to-date, catalog of products for their accounts. And it's all shoppable in-platform, or delivered as a PDF.


Management and Distribution: Distributing Digital Catalogs to your rep force

Envoy B2B Feature : Page Template Builder:

New!

Admins at your brand can use Envoy B2B's Page Template Builder to author digital catalog PDFs that align with your messaging. Having these digital catalogs available in this format is fundamental to supporting your retailers at the buying table. It's the deliverable that your retailers expect to receive before meeting with your brand to collaborate and place their buy.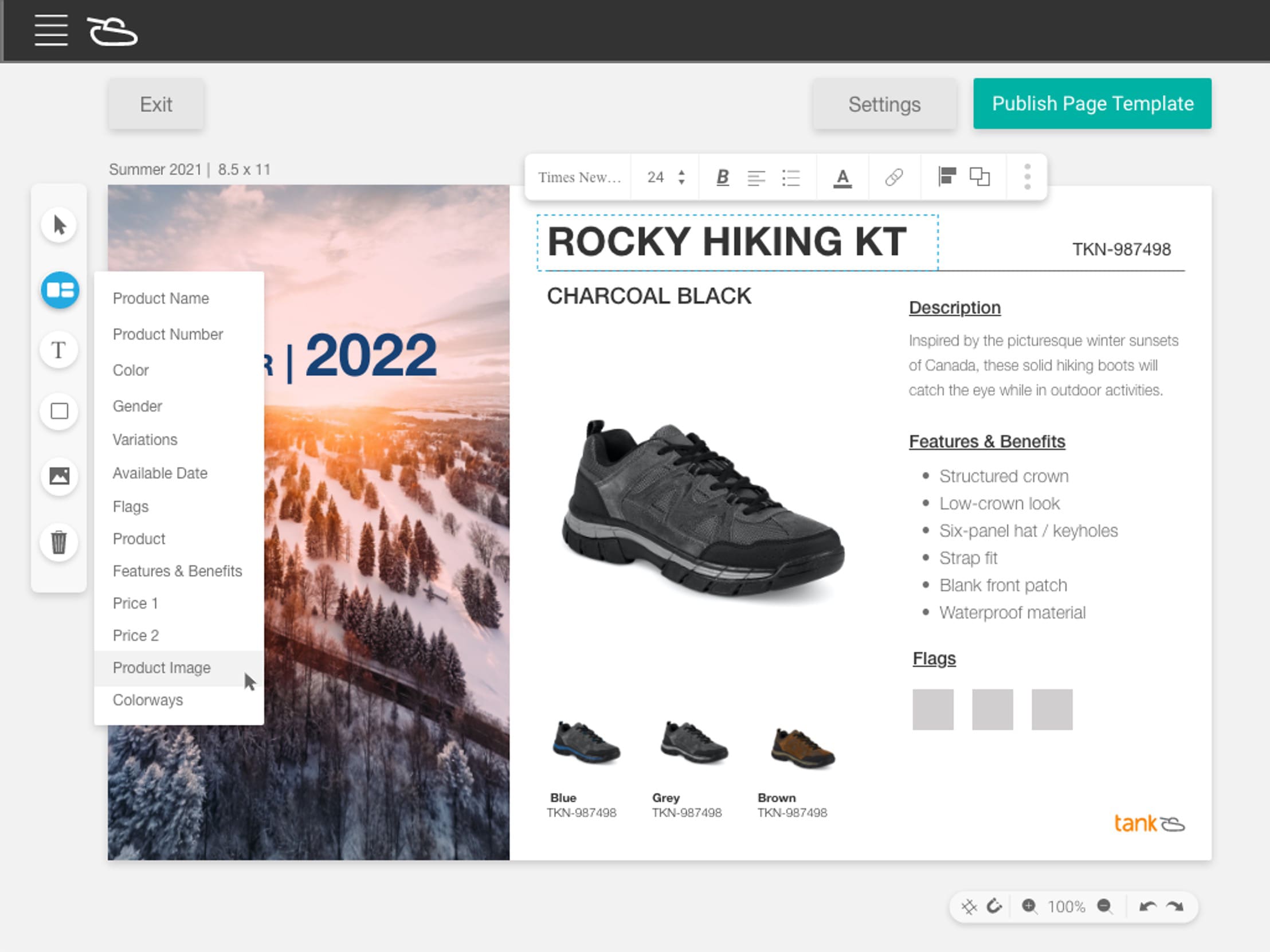 Advanced design capabilities to show your brand

---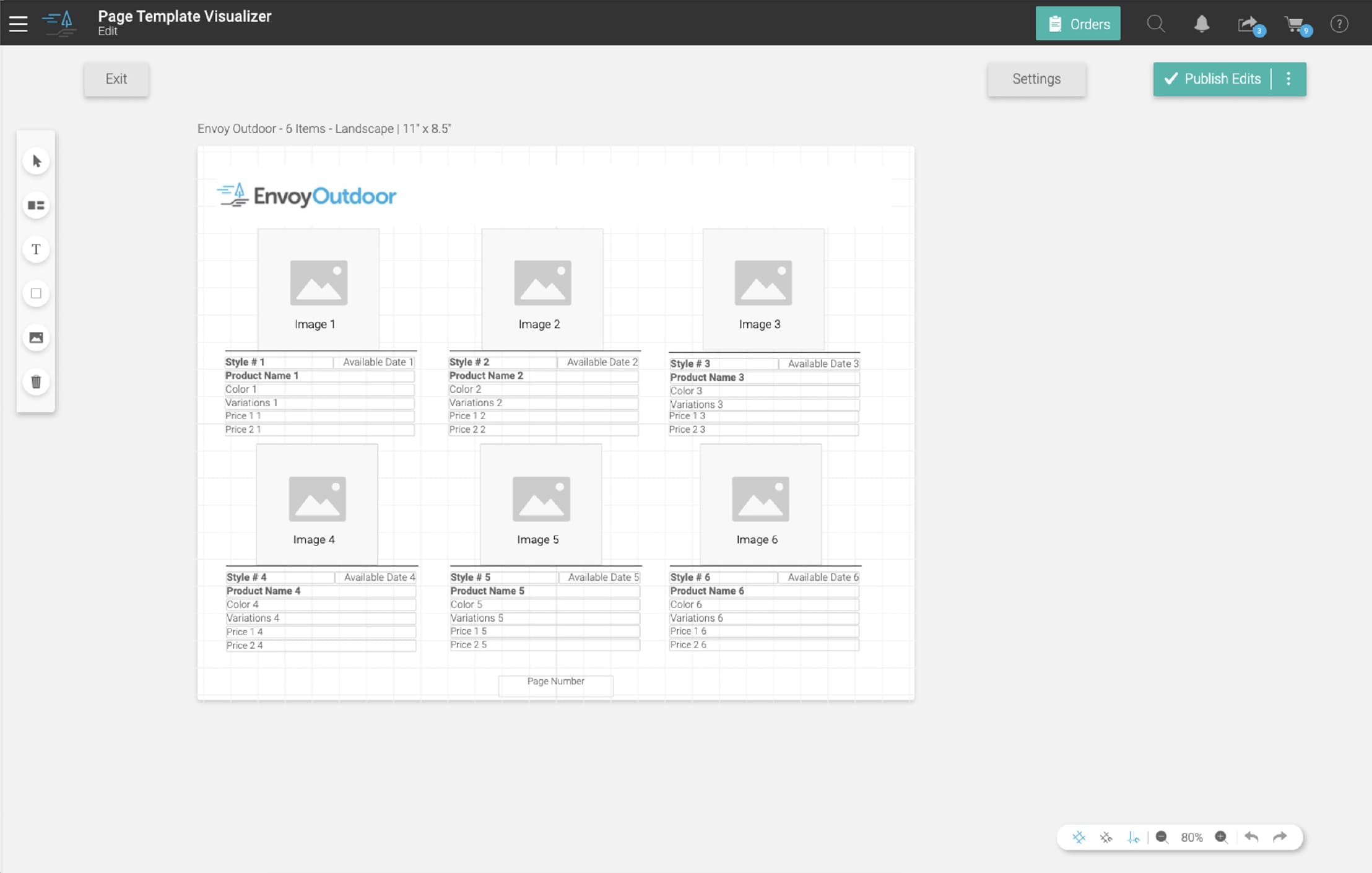 Flow product data and images, and know they are always up to date
---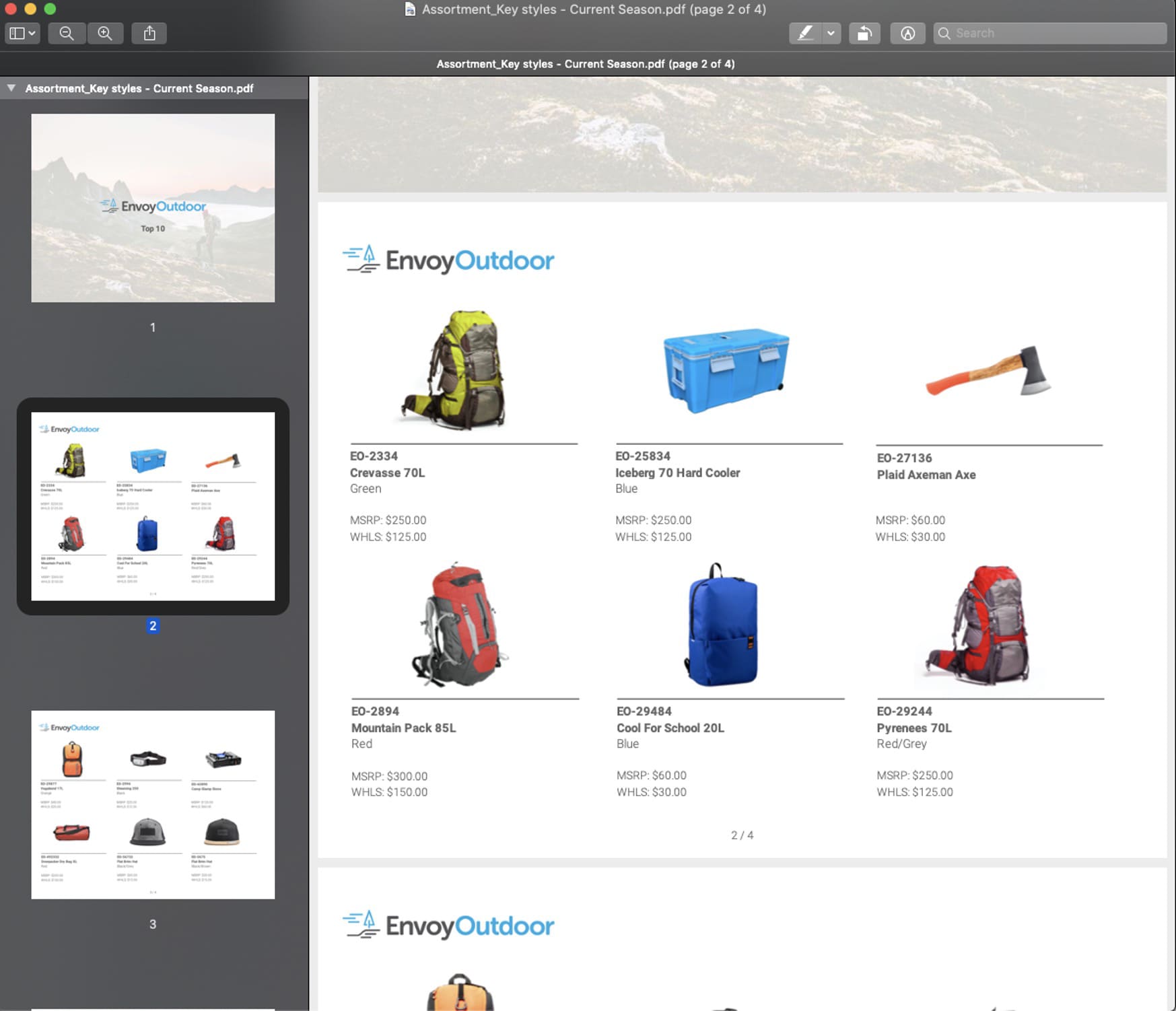 Templates can be used to generate digital catalog PDFs
---
Envoy B2B Feature : Assortment workbook templates

Envoy B2B's assortment templates enable you to deliver a starting point for your reps to create a personal workbook experience. This experience will be used heavily during meetings at this stage of the buying process.
Assortment workbooks allow reps to put all relevant product information in one place, so they can easily deliver presentations and focus the meeting. Retailers also have access to this same information during and after the meeting, for consistent messaging.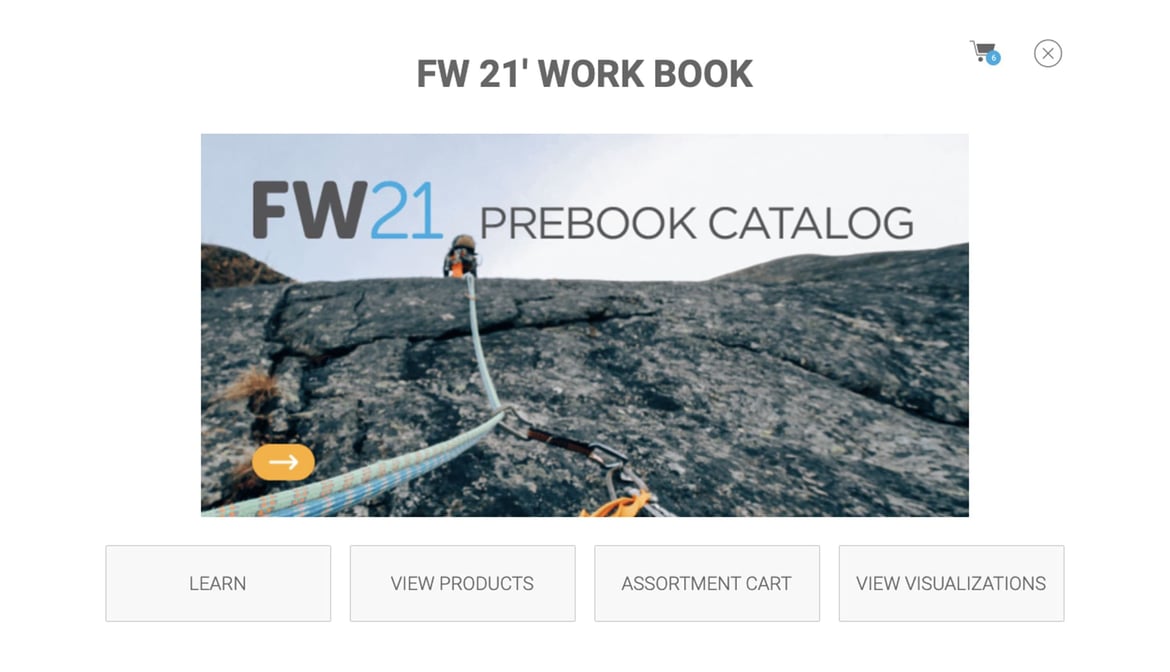 Set your reps up for success with a customizable assortment workbook

---
Preparation, Personalization, Delivery to accounts: Reps build workbooks for their accounts and share them

Envoy B2B Feature : Assortment Campaigns

Now it's time for your reps to share that personalized assortment workbook they've created. By doing this within Envoy B2B, your reps can see the activity on each account as they interact with each assortment. This provides reps a clear view into the level of engagement or progress they can expect before going into the meeting and starting the collaborative order process.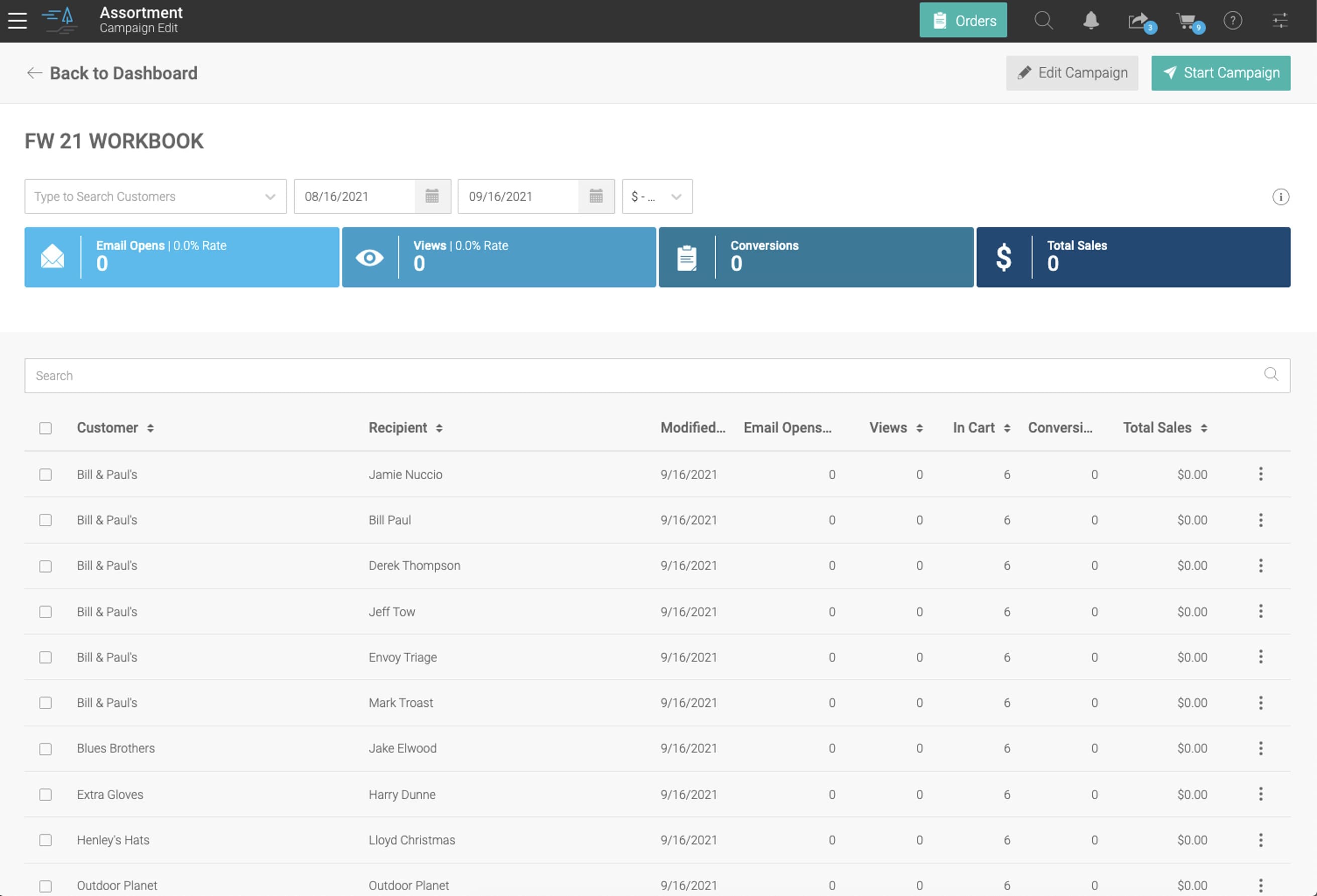 Reps can distribute a workbook to each account ahead of their meeting. Engagement analytics help reps come prepared knowing more about each account's engagement with the shared workbook

---
The Meeting: In person or virtual real time meeting

Envoy B2B Feature : Assortment Experience

The workbook that was distributed to each account before the meeting is now the same workbook your reps will use when in-person. Your retailer may have also downloaded a PDF version to use during the meeting, that should be encouraged.
Reps will use the "Learn" section of the workbook to pitch the brand and key stories, the "View Product" section to walk through what products are available and to show what the rep or retailer has chosen to consider for their buy. The "Merchandise" section can be actively used to show the selection of products that are being curated into an assortment.
And the best part is, all your changes from the meeting are reflected and available for the retailer, regardless of if they choose to work directly in the platform or download the PDF.

The Learn section of the workbook can be presented in the meeting to get context for the buy.
The View Products section of the workbook can be used to review each product, make selections for merchandising, and ultimately add to the buy.
Reps can utilize the visualization section of the workbook to collaboratively work with and account and visually confirm a great assortment is being chosen.
Both a digital catalog and what you've merchandised can be easily downloaded as a PDF.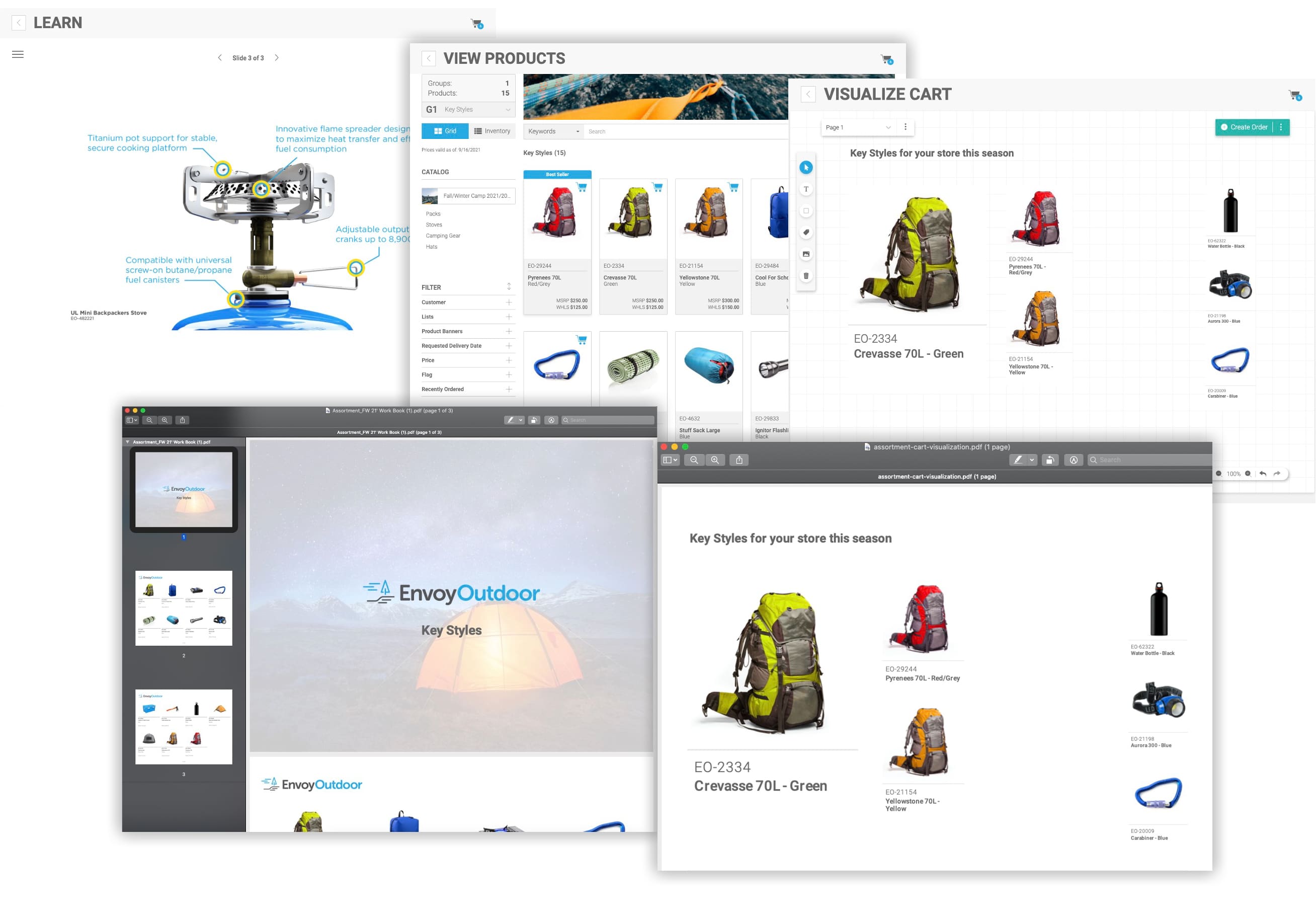 Envoy B2B Feature : CheckMate Experience

In tandem with Envoy B2B's Assortment Workbook, your brand can leverage our integration with CheckMate. This integration allows for a merchandising experience to be used in a virtual showroom with 3D models of your products. The resulting assortment selections can then easily be made available in Envoy B2B for further assortment building and ordering. This experience can be made available for your retailers to use on their own, or it can be used within the meeting as another engaging experience.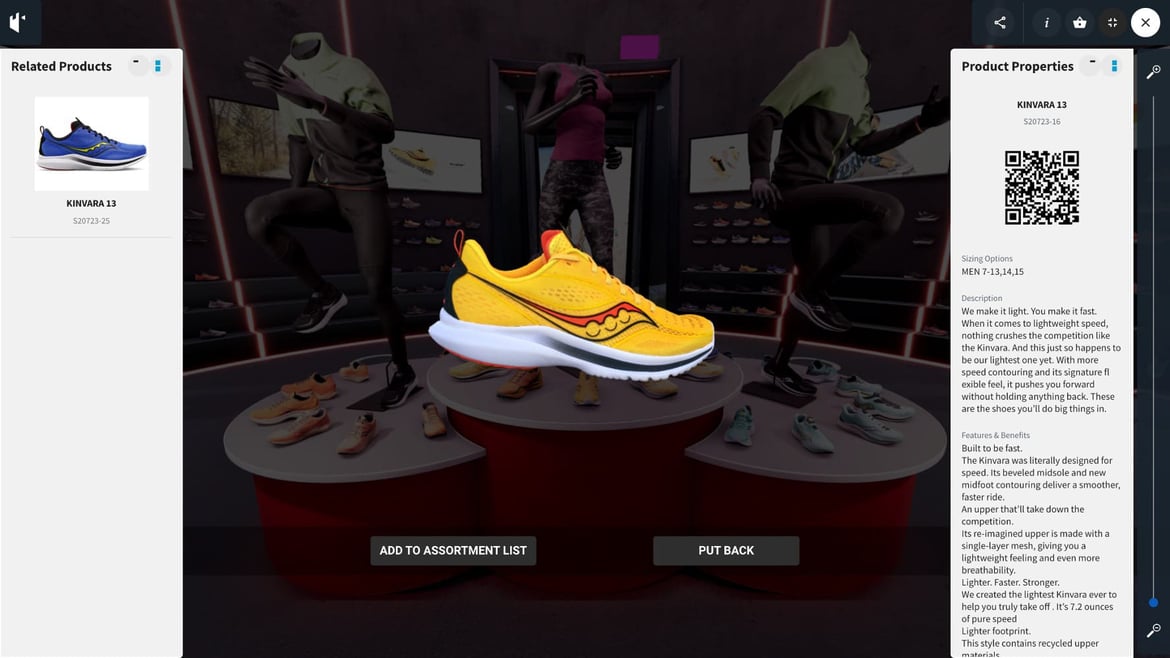 Our integration with CheckMate allows for an immersive virtual showroom merchandising experience

---


The role of visually merchandising the buy
In person or virtually.
Merchandising the buy: Improve the buy together

Envoy B2B Feature : Ordering and continued visualization per shipment

Some brands will jump right to this step and share an order with merchandised shipments, skipping all previous steps during this stage of the buyer's journey. Some brands will end the meeting prior to this step and give the retailer a chance to construct their own order based on the outcome of the collaborative process that occurred in the meeting. Both ways work. It's up to your brand to determine when either path is used. Likely it will vary from account to account. In cases where assortment workbooks were used, it's very easy to transition the resulting assortment selections into an order with multiple shipments for the season.

Assortment workbooks can be the basis for ordering.
Orders can have each shipment visually merchandised.

After a year of changes, adaptations, and finding success using digital tools to support the buying process, it's clear that a hybrid model is here to stay. That means relying on your B2B in combination with your reps to create meaningful interactions with retailers, at each stage of the buying process.
In this article we focused on 2 of the 7 steps of the seasonal buyer's journey, but there is more to learn. If you are interested in learning more about how Envoy B2B can help your brand support your reps and retailers for the entire seasonal buyer's journey, check out our recent case study with Rumpl.
You might also find this post interesting: Standardize It! Avoiding Lost Revenue In Your Wholesale B2B Workflows.