Showroom is Envoy B2B's premium digital destination for your retailers. It tells your brand's story, provides educational experiences, drives your marketing, highlights product launches and promotions, and keeps you connected to your users.
It's the landing page for your retailers when they log in, and is a critical part of your go-to-market strategy. As an ongoing resource, your retailers will spend a lot of time here and revisit it throughout the season. Retailers will be looking to your brand for guidance during sell-in and sell-through, and Showroom is the key to making that a successful experience.
We'll share tips on how to build Showrooms that engage and delight your users.
Building the Showroom
The creation of any good Showroom starts with thinking through the best layout. Mapping this out beforehand helps you decide what stories you want to tell your retailers, and how you want to engage with them.
That process should look like this:
Decide what key stories you want to tell.
Identify the content you have for each story.
Create a hierarchy of priority. What order do you want your retailers to encounter the stories?
Create wireframes or storyboards based on #2 and #3.
Use these wireframes to determine how many Showrooms you need to build.
Choose layouts that complement the wireframes and match your visual aesthetic.
Design and create the assets for each Showroom.
Populate your Showrooms with content.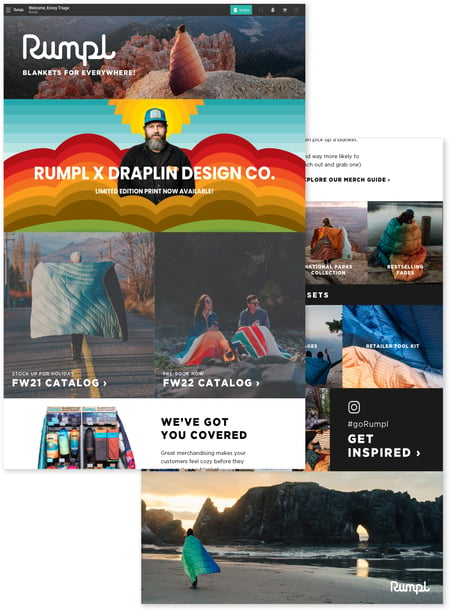 An example Showroom by Rumpl
A single destination
Retailers often work with hundreds of brands, and they're in and out of multiple systems every day. Harness Showroom's power as a single destination and make life easier for your retailers.
Showroom is the ideal place to gather all your resources. This includes marketing materials, educational tools, interactive presentations, and any other content to help your retailers have a successful season.
If you need to deliver content that can't be placed directly inside of a Showroom, you can provide a link to an external source. Remember, retailers are landing in Showroom every time they log in to the platform. Keep it easy for them by making sure it's the only destination they need to visit.
Different showrooms for different goals
While you'll definitely want a perennial Showroom – that single destination used all season long – there are opportunities to build multiple Showrooms for specific goals.
You can create Showrooms for specific promotions or product launches or upcoming seasons. And, they can all be linked from your main Showroom to create a seamless experience for your users.

Showroom can be used to focus on specific products, technology, promotions, and more.
Focus on a target audience
You can build multiple versions of a Showroom, each tailored to a specific retailer's needs. And within each Showroom you can control who gets access. This allows you to target specific groups of users with one or more Showrooms to deliver more focused engagement.
This is how you get the right story to the right people, at the right time. By pushing custom messages to specific groups of retailers, you demonstrate that you know who they are, what they're interested in, and how best to support them with the right assets. This creates incredible brand loyalty.
Create a shoppable experience
We see a lot of brands create amazing showrooms, wowing their retailers, and creating awesome educational content. But, they often leave out a key element – making every experience in Showroom shoppable.
You've already done the hard work of getting retailers engaged, but if it's not shoppable you're missing out on sales opportunities. Allow users to add products to an order from anywhere inside a Showroom with a simple click.
It's more than just adding hotspots to images, or linking out to catalogs. The key is letting your retailers know that products are shoppable. You can build call-to-actions into your images and educational experiences that drive retailers to act immediately and add products to their cart.
Envoy B2B can help
This article has all the tips you need to get started building your own Showrooms. But, if you're looking for more, we've got you covered. Our Customer Success team would love to work with you to build the best Showroom possible. Get in touch to learn more!