Streamline Your Wholesale Channel

Putting Together A Smarter Season
The time before product hits the store shelves is crucial for your brand. You need to ensure that pre-booking goes off without a hitch. Putting the right product in the right stores is critical to sell through. But, the approach your brand takes in the middle of the season – during sell-through – is equally as important.
Let's take a look at retailer needs during an entire season, with modern ideas and strategies that brands can adopt to improve business every step of the way.
Modern pre-book order capture...
It's essential that your brand collaborates with your retailers to build the smartest pre-book order possible for the season. Reps should be in communication with their accounts, recommending orders and visually merchandising the buy.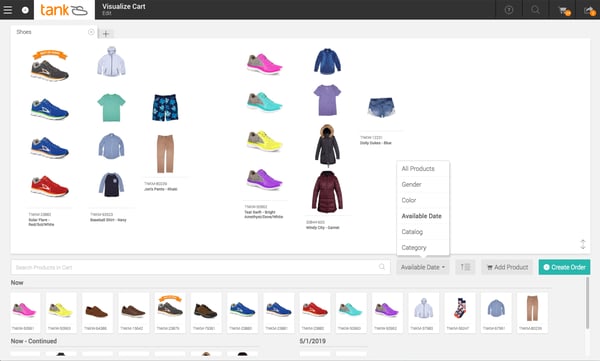 Envoy B2B delivers a powerful but simple-to-use Merchandising tool for visualizing smarter buys.
Retailers need to see how a line works together, visually, before they can commit. Reps and retailers should work together to build the best fit buy, designed around the needs of individual stores. That buy can then easily convert right into an order directly from our merchandising tools, simplifying the whole process.
Retailers have told us that the number one criteria that they have for the brands they carry in their stores is product that fits their assortment and consumer's needs. Strong visualization and merchandising tools are just one of the ways in which brands can fulfill this criteria during the early stages of the season.
Essential B2B tools for the pre-season
...and replenishment
Pre-book is done, product is in stores, and now it's time to sell the season. Retailers will need 24/7 access to an online B2B portal designed to help them manage their seasonal demand.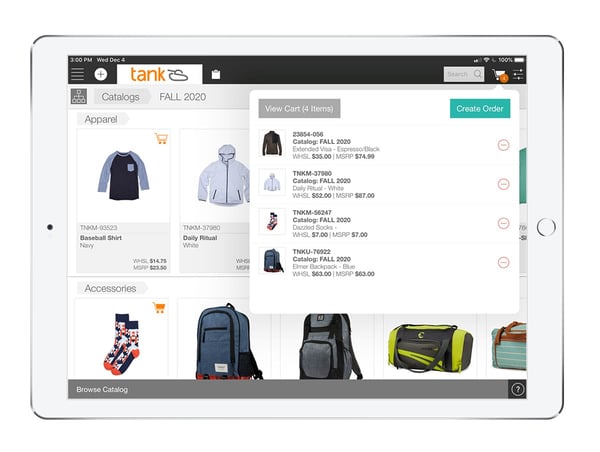 An around-the-clock portal and ordering tools puts power in the hands of your retailers.
Did you know that one of the best ways to support your retailers is by providing easy, self-serve orderings tools? Retailer's want the power to log in and easily submit replenishment orders, on their time, without having to contact a rep.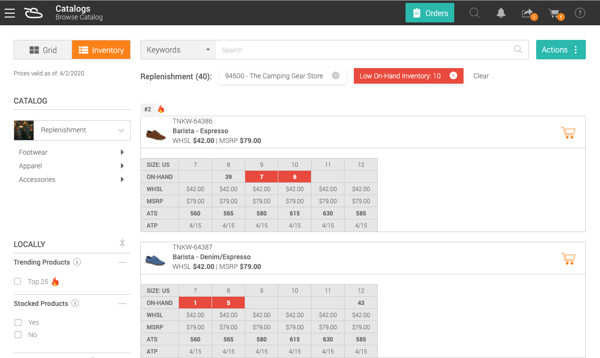 Real time inventory makes Envoy B2B a key component for brands looking to support their retailers all season long.
Your B2B platform needs to have an accurate window into real time inventory, as well as quick replenishment tools. Retailers are busy running their shops and if they can't see what you have available and quickly get it on their shelves they'll find brands that provide that instead.
Essential B2B tools for in-season
How your brand helps retailers succeed
Retailers are incredibly busy. 66% of your specialty retailers carry more than 20+ brands. 97% use more than 5 B2B platforms daily. You need to make their job as simple as possible so that it's easier for them to sell your product. Obviously you need quality product, but after that the single best way to earn your spot on the shelf - and increase your sell through - is to actively invest in the success of your retailers.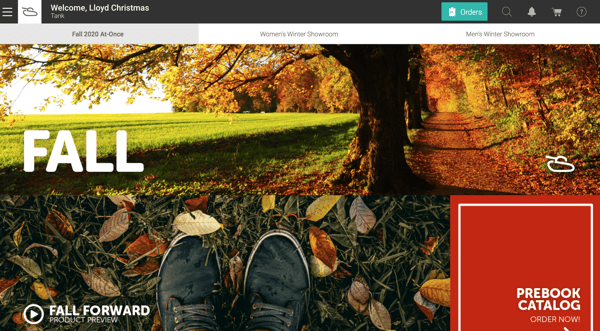 Showroom is a 24/7 content destination inside of Envoy B2B. It's the one stop shop for retailer education, interactive experiences, product reveals, and catalogs. And it's all shoppable.


If your retailers have the tools to get your product on their shelves quickly and easily, and educate themselves on your brand and product stories, you'll see better sell-through.
Make it easy to sell your brand, and earn your spot on their shelves. Here how to do it:
Inventory visibility
Retailer's said it loud and clear in our Envoy B2B Specialty Retailer Research - they need accurate visibility into a brand's inventory levels.

It may seem obvious after the fact, but if retailer's are asking for accurate inventory levels that indicates they don't currently have that. Think about that. The retailer you are relying on to sell your product to consumers might be unclear on if they can get that product in stock, because you aren't giving them that information.

That's wild. Retailer's can't buy what they can't see.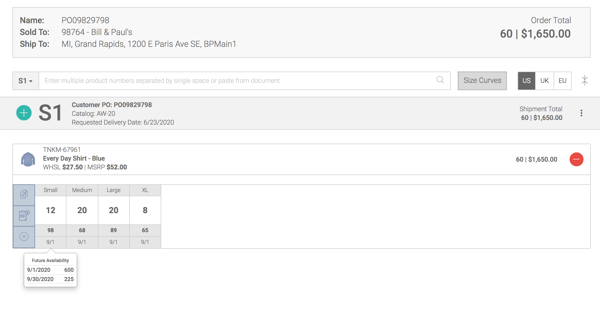 Envoy B2B provides real-time inventory to your retailers in their shops and your reps in the field.

Giving your retailers accurate, real-time inventory to support their ordering is an immediate way to stand out, and an easy way to drive quick buying decisions.

Make re-orders a cinch
Large stores have the luxury of being able to keep good tabs on what is running low for re-orders. In some cases accounts are even on auto pilot and they replenish themselves. Specialty retailers don't always have this luxury. They rely on the brands they work with to support them with the tools they need to place orders. And smart brands provide powerful, accessible tools.
"Ease of getting product is key. If I can't get it, I won't restock because there's definitely something else on the market that I can get."

- A Retailer From Our Research
Envoy B2B has quick easy-to-use tools for retailers to place replenishment orders, through our 24/7 portal. No need to involve or wait on a busy rep, retailer's can work around their busy schedule and keep their shelves full of your products.

Collab marketing and driving foot traffic
Smart brands realize it is partly their responsibility to drive traffic to their retailers. This means two things. It doesn't mean cold calling local consumers and putting up signs directing them to the store. What it means is not competing with them for that foot traffic and sales.
Provide your retailers with great collab marketing opportunities. Get involved in their community by sponsoring events at the shop. Provide products for consumers to trial. Generally, your brand needs to be partnering with the shop in a visible way to drive consumers through the doors.
Don't undercut your retailers by selling for less on your website or at big box stores. This undercuts your specialty retailer partners and tugs consumers away from their stores.
In some or our recent research, retailers told us:
"My biggest frustration is with brands that are aggressively competing with us online. I don't have a problem with them selling online, but when they're consistently offering 20% off or more, with free shipping, it's hard for me to support or buy more product from that brand."

Strong support turns good reps great
Did you know that 80% of retailers need their reps' assistance in learning about a brand's product in order to better sell them? It's clear that Sales reps play a critical role in the specialty retail world.

Stores are hungry for dedicated reps that understands their business, communicates frequently, and schedules regular in-store visits. Milk run reps just won't cut it anymore. There are three keys to being a good rep in the eyes of a retailer:
The rep understands the needs of the individual store and recognizes that each store is unique.
They communicate clearly and frequently
The rep schedules regular in-store visits for product education, help with buys, clinics, and anything else the store needs

Summing it all up
In short, retailer's buy from brands that actively engage in supporting the success of the store, because they know it leads to mutual success. So brands need to earn their spot on specialty retail shelves by actively supporting their retailers with:
B2B Opportunity #4: Accurate, real-time inventory visible to the retailers
B2B Opportunity #2: Easy access to self-serve replenishment tools
Collab marketing to drive foot traffic
Follow MAP and don't undercut your stores
B2B Opportunity #8: Empowered reps engaged in store success


The best in-season strategies & tools for brands
Are your systems lacking? The right tools will make an incredible difference in the success of your business and your ability to empower your reps, meet your retailers' needs, and build successful seasons.
1. A modern B2B platform for everyone on your team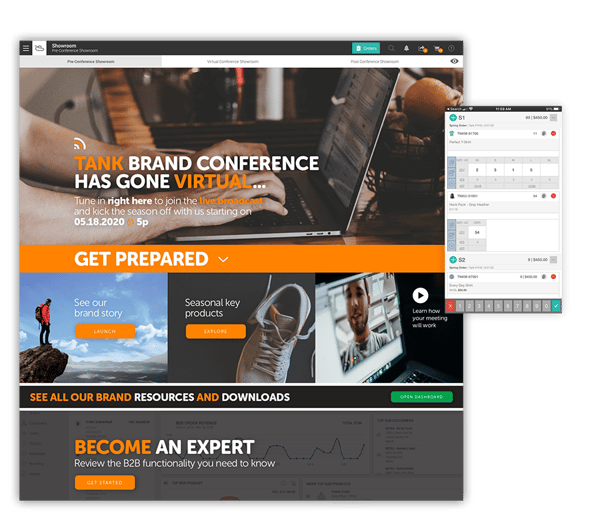 Step one is to implement a modern, easy-to-use, wholesale B2B system. Nervous about your retailers actually using it? Envoy B2B found that 97% of retailers already use more than 5 different B2B systems.

Your dealers are using a B2B system. Consider this - if you're not offering a digital order destination to your retailers it's likely that your competitors are, and that's who your retailers are buying from. Don't miss out on business by holding on to antiquated systems.

What features should your brand be looking for in a modern B2B? Take a look:
Envoy B2B covers every single one of those bases, and more!

2. An ERP to handle the details
And enterprise resource planning (ERP!) solution lets your brand gain control of all aspects of your business. Platforms like Shopify are neat, but they aren't built to run an entire business. Actually, neither is a B2B platform! These tools are purpose built to run specific channels of your business.
Once your brand hits a certain size in revenue, or number of doors - the tipping point varies from brand to brand - your business will start to grow exponentially more complex. And that's when it's time to adopt an ERP.


Envoy B2B is integrated with all these ERPs, with more to come.

An ERP will unite all of your channels and allows you to manage the growing complexities of your brand. It's a powerful way of standardizing your processes so you can concentrate on the real work of running your brand.


Summing it up
Make sure your tools are the right tools to drive a successful season:
Provide your retailers with a modern B2B that makes replenishment easy
Make sure your B2B is providing powerful rep tools that empower them to support their retailers
When your systems get too complex, get an ERP to manage those complexities for you