Channel marketing is faster and more effective than traditional growth models. And, it can be highly productive. But, is your B2B supporting that strategy and helping you capitalize on those benefits?
It's a simple concept, really. You work with people outside of your organization to get your products into the consumer's hands. This exposes your products to a greater variety of marketing campaigns and gives them expanded visibility. It's cost effective and has proven to increase brand recognition.
Envoy B2B supports your efforts to capitalize on your channel marketing strategy. Let's look at what that means for you and your brand.
Challenges and Solutions
There are many benefits to channel marketing, but also a variety of challenges:
Lack of access to good data and analytics

Each of your channel partners has their own systems and plans, making it more difficult to get good insights. This deficiency in reporting can make it difficult to track the impact of their efforts.

Not enough expertise

It's possible that your channel partners are retailers, distributors, or other people that aren't dedicated marketers. They're excellent at what they do, but they might not be fully aware of your seasonal marketing tactics and strategies. And, they may not have access to the proper marketing materials.

It's out of your control

While you're able to make connections with consumers that would normally be out of reach, you have no way of knowing if the messages being delivered are compliant with your strategy.
Envoy B2B brings tools to the table that can help your team overcome these challenges and solidify your channel marketing efforts. You'll get more detailed and extensive insights and analytics, along with actionable guidance and support for your partners. Those two features alone will make sure that the messages going out are consistent with your marketing strategy.
Better Data For Better Partnerships
Overcoming a lack of access to good data and analytics
Envoy B2B is equipped with an Activities and Insights dashboard that gives you a window into the activity of the users in your channel. This alleviates a major blind spot from your channel marketing efforts, allowing you to pivot and adjust campaigns as needed.
Activity and Insights delivers two key views:
Activity

You can see what your retailers and buyers are doing on the platform. Whether it's an order they placed, or a showroom they visited, or a catalog they viewed, you'll know what marketing experiences are successful.

Insights

You can track top products, best sellers, revenue, and dig deeper into their content engagement.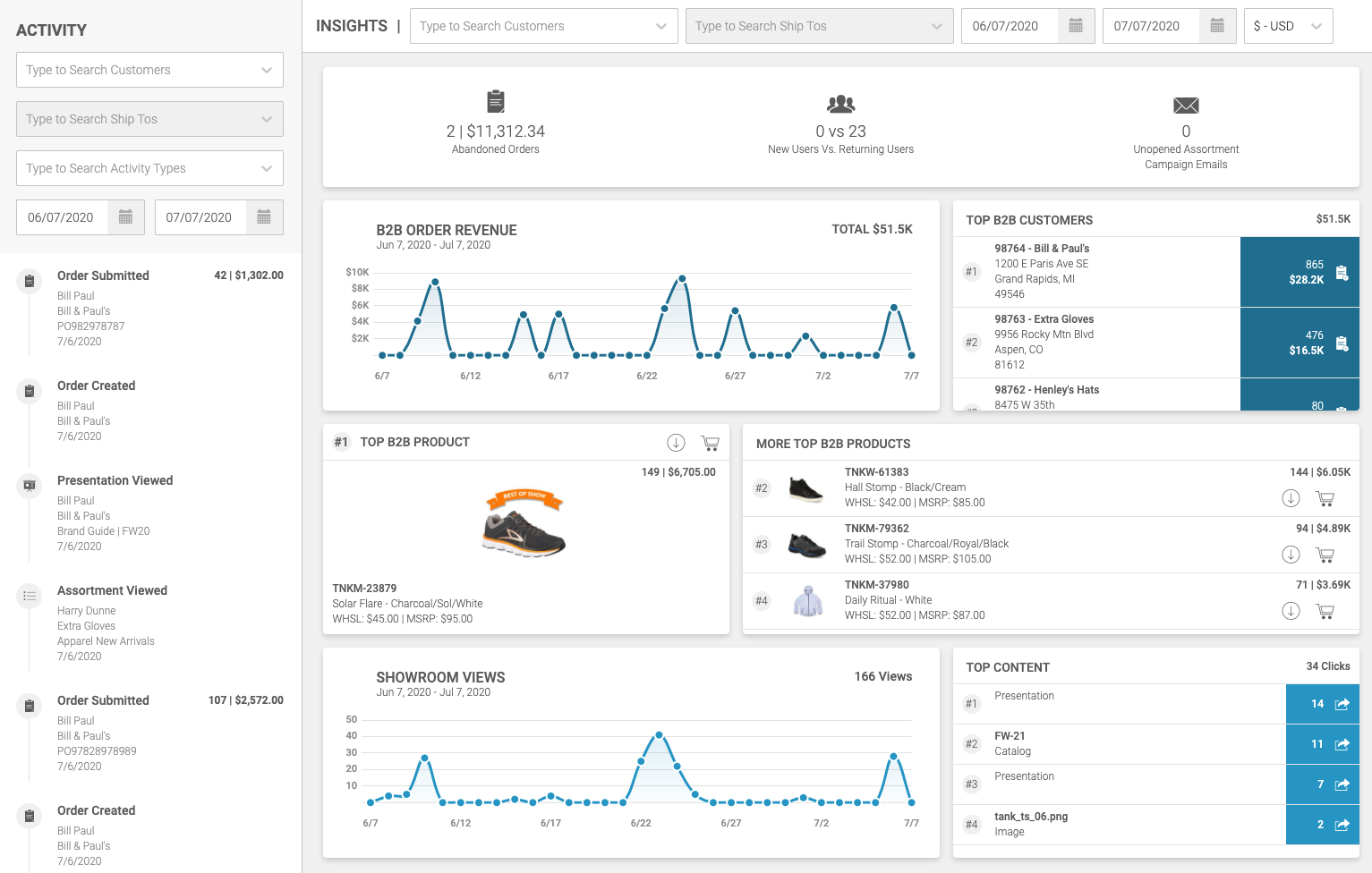 This data provides actionable information on how your channel partners are interacting with and spreading your marketing message. Using this data, you can adjust campaigns accordingly, or reach out to retailers that may be missing key elements of your marketing strategy.
Keeping Retailers Up To Speed
Making sure your partners are experts
Our platform also helps you overcome the lack of expertise you might run into with your channel partners. Since you now have access to reliable, real-time, performance data and sell-through statistics, your marketing team or reps can communicate best practices and tips to your retailers.
That real-time feed lets you analyze performance and make decisions about how to directly provide retailers and other channel partners with the support they need to keep up with your marketing efforts. This gives you the power to deliver targeted Showrooms, educational experiences, and provide up-to-date resources – all designed to keep retailers on track with the latest marketing strategies and trends.
And, retailers appreciate it. It's a level of premium support they aren't getting anywhere else.
Staying In Control
Envoy B2B creates a single source of truth for messaging
Ensuring that you are in control of your brand's messaging is essential to hitting goals and increasing revenue. Channel partners don't always get this right, as they may be working with outdated or erroneous materials.
Envoy B2B creates a single source of truth for everyone in your channel, so you know the right story is being told every time. You can tailor it regionally, customize the message for certain stores, or control versioning with our segmentation tools. Because you don't need to be sending strategies for selling surfboards to ski shops.
The digital content production and delivery tools, combined with the power of segmentation, ensures that every channel partner is using consistent, up-to-date messaging.
Better Channel Marketing Through Envoy B2B
Envoy B2B gives you the power to boost the impact of your channel marketing efforts by providing better data and analytics, giving channel partners the support they need, and ensuring a single source of truth for messaging. This keeps you in control of your story.
That control translates into a more focused and consistent marketing message for your consumers through your valued channel partners.
Want to learn more? Get in touch with us for a demonstration of the platform and how Envoy B2B can strengthen your channel marketing.