Your brand has a considerable wholesale operation and growing direct-to-consumer (DTC) business. Producing the right assets for each channel during different stages of bringing the line to market is vital to growth. But, given the pressures of operating across both wholesale and in a DTC environment, careful consideration is needed in order to produce the most effective assets.
Two Approaches To Product Content Production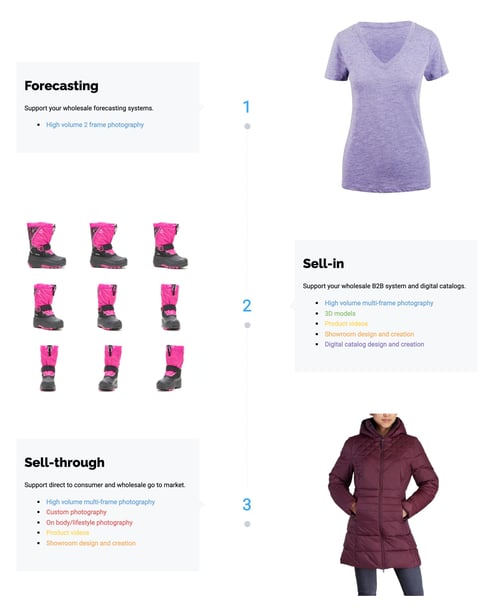 As brands have wrestled with finding the best approach, two content strategies have emerged: specialization and adaptive.
Placing value on specialization over an adaptive approach means you want to place your product in a highly tuned environment involving props and perhaps even with an on-body setting. With a specialized approach, you know what you want, you set up your scene and capture it. This lends it self to a highly curated and thoughtful deliverable. For example, during sell-in, a specialized production strategy will produce a high-end "hero" shot that has been uniquely placed in an environment that speaks to the products features and is prepped and styled to tell that product's story.
In contrast, an adaptive production strategy will value flexibility over specialized style parameters. A great example of this is rendering e-Commerce product assets from a 3D model. The upside is that rendering 2D images from a 3D model and environment is that it allows for endless frame and lighting permutations in post-production. This means that one 3D model can produce many unique e-Commerce assets for both sales channels at different stages of the season on demand.
But there's another option. Different stages of the season have different demands. Being flexible enough to adapt your process in a way that accommodates the present needs means harnessing the benefits of both an adaptive and specialized approach. But what do these different approaches look like during the production cycle for a typical season, and which stage requires which strategy?


---
Forecasting
Typically, the physical product at this stage is a hot commodity. The challenge during this stage of the season is simply getting the product in front of the camera long enough to capture and send it on its way. With all departments clamoring for the product, the demand is high. Overall, valuing specialization over an adaptive approach allows a photography team to capture a fast deliverable of a few angles on white that can be used in forecasting.
Trying to push for anything more at this stage slows down production for unneeded deliverables and plugs up the entire go-to-market pipeline. Secondarily, it's likely that a product at this stage of the season will go through dramatic changes, so shooting for a simple standard means rapid turnarounds and smooth production.
Specialized Forecasting Solution
Two Frame e-Commerce
A two frame approach gets the job done. It's typically hero shot and a feature shot on white, with a clipping path. This makes for a quick capture with flexible outputs that enable post-production changes as the line updates require. Simple to capture again for major updates, but easy to change in post for additional colorways or other small tweaks.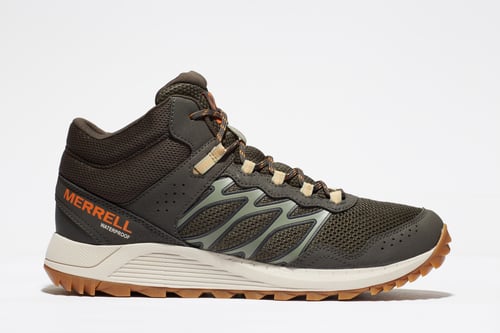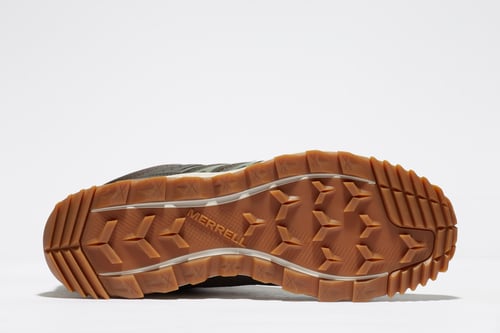 ---
Sell In
This phase can be challenging. There is an increased diversity of needs, along with an elevated demand for assets as you work to support your sales team. Sell-in requires that you build product experiences to support your wholesale B2B system, your merchandising systems, and your rep tools. These tools often leverage multi-frame photography that appears directly in the platform, but also gets repurposed for downloadable PDF digital catalogs.
This diversity of uses means product photography with white or transparent backgrounds are a must. This should be paired with lifestyle photos or videos, showing the product on a model, or staged in a setting to create the elevated experience your sales team expects.
There will also be a call for a selection of digital media and assets, empowering your sales team to tell your brand's seasonal story. This can be anything from enhanced features shots of the product, to short 360-degree video, or longer featurettes.
And your retail partners will want imagery and product photography to support their efforts to sell your brand inside their own digital experiences. These assets will need to remain consistent with all the imagery retailers have already received from any other brands they carry.
That's a lot of demand on what your photo team is trying to capture. Let's break down the solutions.
Specialized Sell-in Solutions
Multi-frame e-Commerce Product Photography
This is straightforward e-Commerce product photography for your B2B systems, digital catalogs, and your retail partner's systems.

Product Videos
Walk-in and 360 product videos deliver a simple, elevated experience that can be used widely across your B2B systems and popular web presentation tools. Additional videos showing your products in use can help arm your reps with the visual they need to accurately show and tell.
Walk-in video
360 product video generated from 3D model.
Adaptive Sell-in Solutions
3D model + 2D renders
An adaptive sell-in solution allows for the production of 2D assets from a 3D model. Multi-frame e-Commerce imagery can be sourced from a 3D model, rather than captured from a real product sample. This offers great flexibility. Camera angles, lighting, and the number of frames can be quickly adjusted after the initial capture. This approach has definitive upsides given its flexibility, but this comes with some product position limitations and a unique visual aesthetic challenge for more complex products.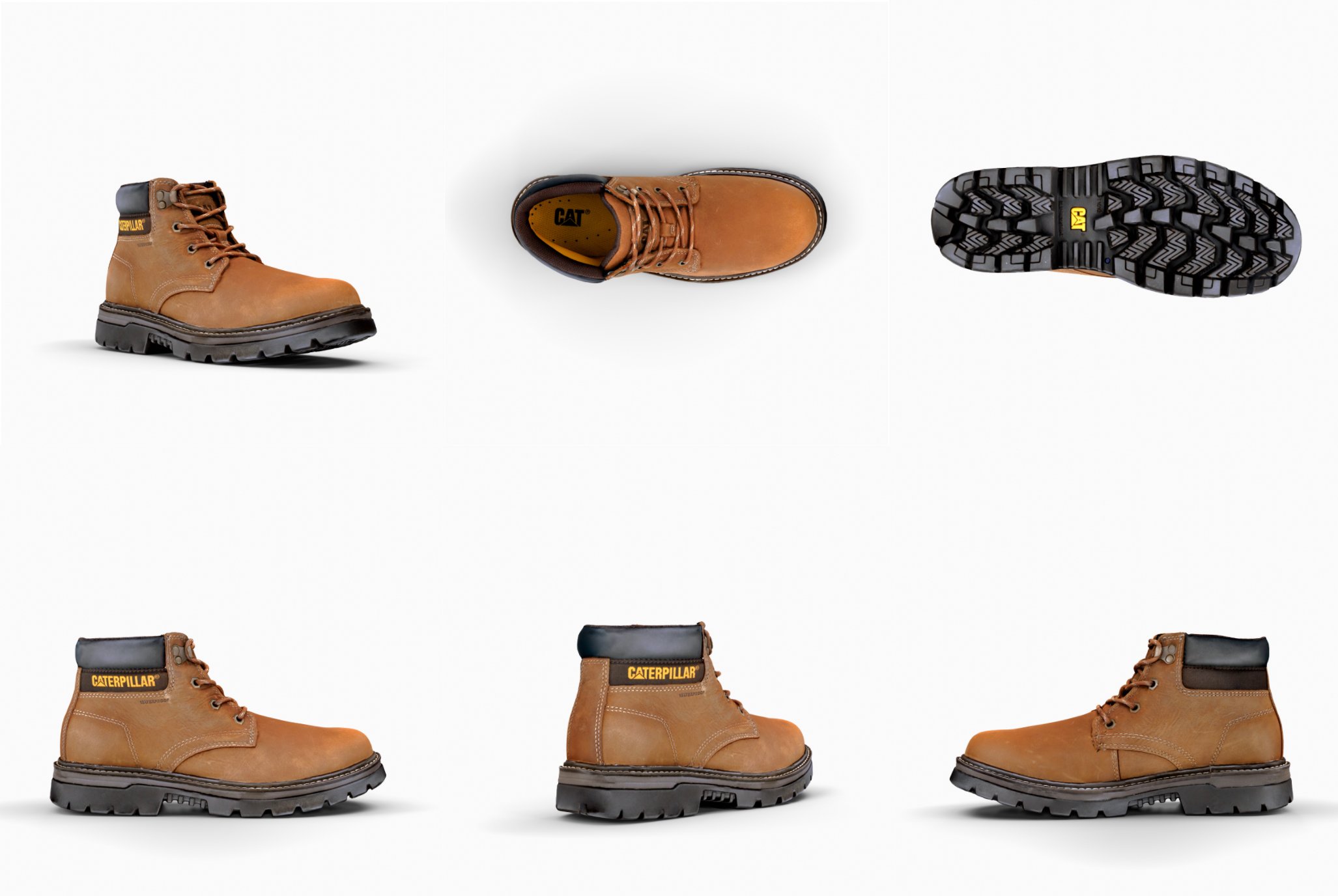 Multi-frame images rendered from 3D model.
---
Sell-through
Your brand is now bringing your line to market, both with your wholesale partners and on your own DTC website. In some cases, your e-Commerce photography from the sell-in stage may be satisfactory, but many brands will realize that this stage of the season requires them to tell their product story in a different way. The need has changed, and so the messaging has to as well.
This can mean either adding assets to what has already been captured, or replacing the existing assets with all new deliverables. Additionally, there is more of a demand for highly specialized custom photography to fuel specific marketing product campaigns as your brand works to increase sell-through.
Specialized Sell-through Solutions
Multi-frame e-Commerce Product Photography
If your brand is operating with an established standard for photography, it can be possible to add deliverables to your existing multi-frame e-Commerce deliverable from your sell-in stage.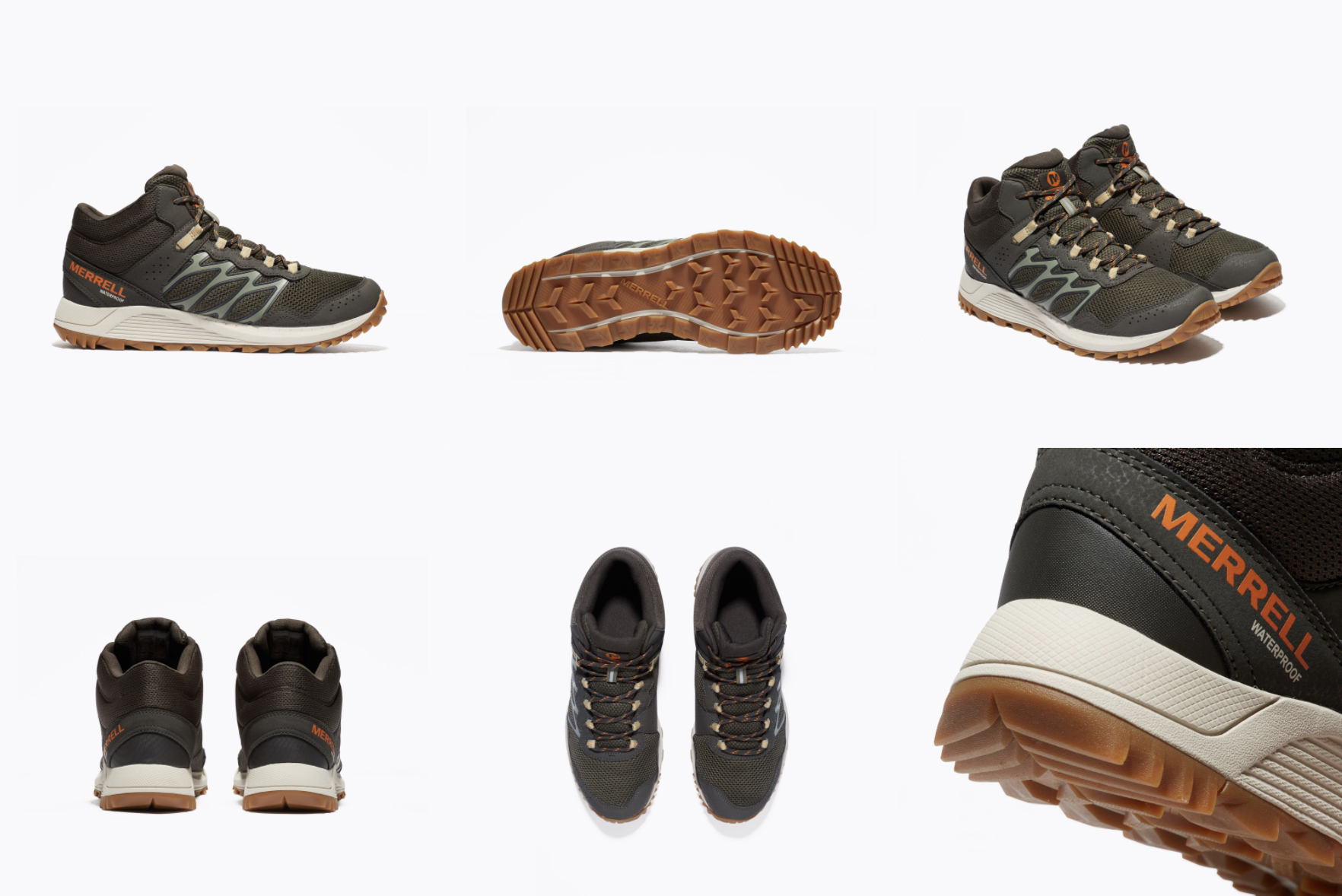 Elevated Specialized Photography
However, some brands will want to deploy an entirely new set of e-Commerce photography with an elevated quality involving props and on-body settings.

Elevated Product Videos Using A Robocam
The robocam is an amazing tool for creating dynamic camera moves that can be repeated across many products. Once the correct movements are programmed, the robocam is set to a very high frame rate, allowing it to move at an incredible speeds for each camera pass. It can take as little as 5-seconds to get the full move around a footwear item, but the result is a perfectly shot, dynamic pan around the shoe that lasts for 10-seconds. Being able to deliver this high level of production value across 50-60 SKUs per hour is tremendous.
Check out our partner D/CAL's incredible work with 5.11 for more.
Adaptive Sell-through Solutions
3D model + 2D renders
The same 3D model "adaptive" solution that was leveraged during sell-in to render multi frame photography can work to create additional elevated images for sell through.

Images rendered from 3D models.
Envoy B2B Studios Aligns Every Stage Of Your Season



Planning, creating, and delivering the right product experiences to your teams is fundamental to empowering a successful season, now more than ever. Take care in working with both your wholesale sales and direct sales teams, carefully considering when to deploy an adaptive or specialized product photography model. The team at Envoy B2B Studios is here to help you meet the needs of each stage of bringing your line to market, and help forge your path to a clean and efficient production cycle each season for the wide variety of needs each sales channel demands. Click here to learn more about Envoy B2B Studios.