What do your current B2B e-commerce platform tools look like? Do they enable reps and retailers with the mission critical features they need to build relationships, collaborate, and grow your wholesale channels? Fostering those interactions between reps and retailers with the right digital tools is essential to your success.
After working with countless brands and retailers over many years, we've learned that there are 8 critical features your B2B needs to handle all of your wholesale needs. From building assortments, to accessing the right kinds of data, these features support growth and deliver the ability to create a successful season.
We're going to briefly call out each feature here, but you can grab the full download for more information and expanded explanations: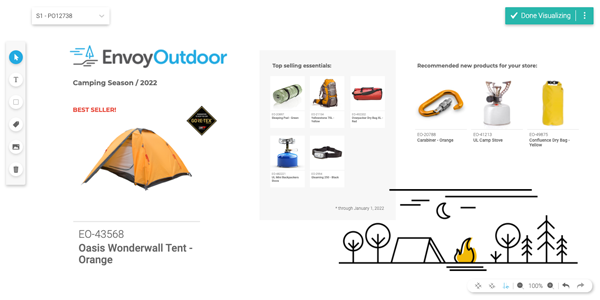 Digital-First
Your B2B is a digital-first destination. Design all your materials for your B2B, and then flow it from there into print as needed.
Visual Assortments
Merchandising is a must. Your B2B needs to have tools that allow retailers to build and visualize the assortment before the buy.
Standardized Workflow
Your ordering tools and workflow should be standardized across every part of your B2B. Reps and retailers can shop and add products to the cart from anywhere.
Real-Time Data
Your B2B gives reps and retailers access to data in real-time so they can take action during the season and keep sell-through strong.
Insights & Activity
Insights into rep activity, showing their engagement with accounts in real-time, gives you the power to ensure you're building a strong team.
Digital Prospecting Tools
Your brand needs to keep growing, and digital prospecting tools built right into the platform helps you add doors.
Consumer Trends
Reps can adapt to the tides of a season because your B2B has a window into consumer trends on a per store basis.
24/7
Your B2B is a 24/7 digital portal that empowers retailers with education and powerful commerce tools.


---

At the end of the day, your reps are the key to building a strong relationship with your retailers. They need the right tools to support their efforts, because human interaction can never be replaced by a fully digital experience. These 8 features are the starting point for your brand as you take a look at your B2B and work out if it's propelling your team forward or holding them back. Download our guide for more.
And of course, this is just the jumping off point. These features make great building blocks for brands of every size, but there's much more to talk about when it comes to building robust, successful wholesale channels. Get in touch with us if you want to know more. We would be happy to talk about how your brand can elevate your tools and strategy.