There are a lot of desktop publishing options out there. So, why did we build Digital Press, instead of just pointing our brands towards existing solutions?
Because, while many of our competitors offer perfectly acceptable design tools, none of them really deliver the kind of design and publishing features a brand needs to effectively engage their wholesale B2B channels.
We built Digital Press specifically to provide that functionality. But, don't just take our word for it. Let's look at our three biggest competitors – Flipsnack, Issuu, and Joomag – to see how they stack up. We will be looking at three critical components: design tools, sales rep tools, and how the content produced interacts with a brand's wholesale B2B.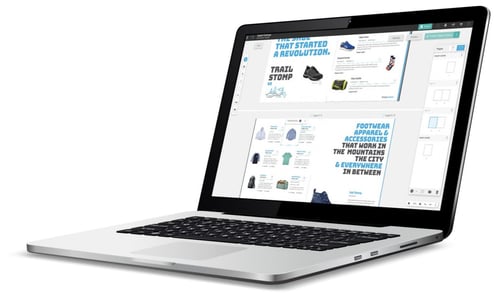 At the end, we think you'll see why Digital Press is the premier content creation tool for brands looking to energize and grow their wholesale B2B revenue.
Digital Press Versus Flipsnack
Design Tools
At first glance Flipsnack shares a lot of DNA with Digital Press. Desktop publishing workflows have been fairly standard for a long time, and both pieces of software have similar creation tools as a result. However, we take it a step further with Digital Press by offering a more robust toolset for your designers, without complicating the process. We've got everything they're used to – guides, rulers, hot keys, and a full drag-and-drop interface.
Does Flipsnack Have Sales Rep Tools?
A Flipsnack experience is static – once created, that's it. For reps out in the field, that's not enough. Digital Press gives them the ability to rearrange, show or hide pages, and add custom pages. That means reps can tailor each experience on a per-retailer basis.
Digital Press also offers better exporting tools, allowing users to export to more in-demand formats such as PowerPoint, and further facilitate tailored, collaborative experiences.
Is Flipsnack Wholesale B2B Ready?
While Flipsnack does allow you to add links to external shopping opportunities, they aren't truly shoppable experiences. It's a siloed experience that's never truly connected to your B2B or wholesale channels. It will always require extra work from your reps and retailers.
Digital Press Versus Issuu
Issuu is targeted more at creating multi-channel assets, or creating digital magazine-style content to sell, instead of functional sales and marketing content that directly drive revenue.
Design Tools
Issuu doesn't deliver a complete set of design tools like Digital Press. Instead, it focuses on converting uploaded PDFs, documents, and other formats into customizable experiences. They do allow for more robust design options, but it's done through integrations with external tools like Adobe InDesign.
Does Issuu Have Sales Rep Tools?
Given that Issuu is focused more on creating informational experiences that can be used in multi-channel marketing, there is no sales rep functionality to be found.
Is Issuu Wholesale B2B Ready?
Again, since Issuu isn't focused on creating functional content. It's not providing enough value for brands. Digital Press creates content that's connected to your B2B and data driven, so it can be utilized across your entire wholesale B2B channel to empower reps, support retailers, and grow your brand.
Digital Press Versus Joomag
Joomag is more focused on multi-channel content that can be monetized. Think of it like a magazine maker, instead of something focused on creating content that drives sell-in and sell-through.
Design Tools
Much like Digital Press, Joomag features a solid set of design tools that allow designers to make a natural transition from the software they are familiar with. In truth, we think their design tools are pretty awesome, and they use a proprietary engine they created. But, like many of our competitors, Joomag's focus on creating content that can be monetized across many channels holds it back from being able to deliver the features brands need in order to grow revenue season over season.
Does Joomag Have Sales Rep Tools?
Like Issuu, Joomag lacks any features that allow reps to use the content effectively in the field. It can produce great experiences, but they're meant to be delivered directly to the user and ingested, not used in a collaborative interaction between reps and retailers or during sell-in and sell-through.
Is Joomag Wholesale B2B Ready?
Since Joomag is focused more on creating multi-channel, magazine style content, it's not going to be able to produce the same kind of shoppable, collaborative, B2B-aware experiences that Digital Press can. Anything created with Joomag will exist in its own standalone space, rather than be connected to your B2B. As such, Joomag content would only ever be an ancillary experience for your reps and retailers, forcing them out of your B2B.
Competitors, But No Competition
While some of our competitors do offer solid design tools, brands don't really need magazines and brochures. They need content that hooks into their go-to-market strategy, supports their B2B, and drives revenue.
Digital Press was designed and built with a very specific goal: To make sure that brands using it are able to create amazing digital experiences – purpose built to support their wholesale channels. That means tools to empower reps, features that enable retailers to proactively engage with brands, and smart content that is B2B-aware. No one else comes close.
If growing your wholesale revenue is the goal, Digital Press is the solution.