Most B2B systems, by design, are private shopping experiences built for a brand's existing retailers. They are fantastic tools for supporting and growing your business amongst those pre-existing accounts. Retailers can learn what's new each season, get educated about the product, and place orders in an environment that the general public cannot access.
Unfortunately, that general public also includes prospective retailers that your brand is trying to court. You could attempt to give these retailers access, but that brings with it a slew of issues. Complicated onboarding procedures, getting retailers to set up a log in, exposing retailers to information you aren't ready to share – it's a hassle.
In most cases, this is where a rep would send over a brochure, catalog, or even a lookbook. Helpful, but it can be misplaced, forgotten, or maybe never even looked at in the first place. And ultimately, printed materials just aren't engaging enough.
So, how can you introduce a retailer to your brand, excite them with meaningful content, validate them as a good fit, then onboard them into your B2B to start creating orders?
The answer is Envoy B2B's new Public Showrooms.


How Do Public Showrooms Work?
Introduced in our latest V21 release, Public showrooms are visible to anyone with the link you provide, which means a 24/7 content destination for your team to leverage with their prospects. You can create as many of them as you like and see the engagement metrics of retailers on each of them.
Allow a prospect to view your interactive showroom experience, catalogs, and book a meeting or become a retailer, all without bothering them to register and log in first. This is the perfect destination and companion to your digital prospecting and trade show strategy.


A Unique Showroom For Each Retailer Acquisition Campaign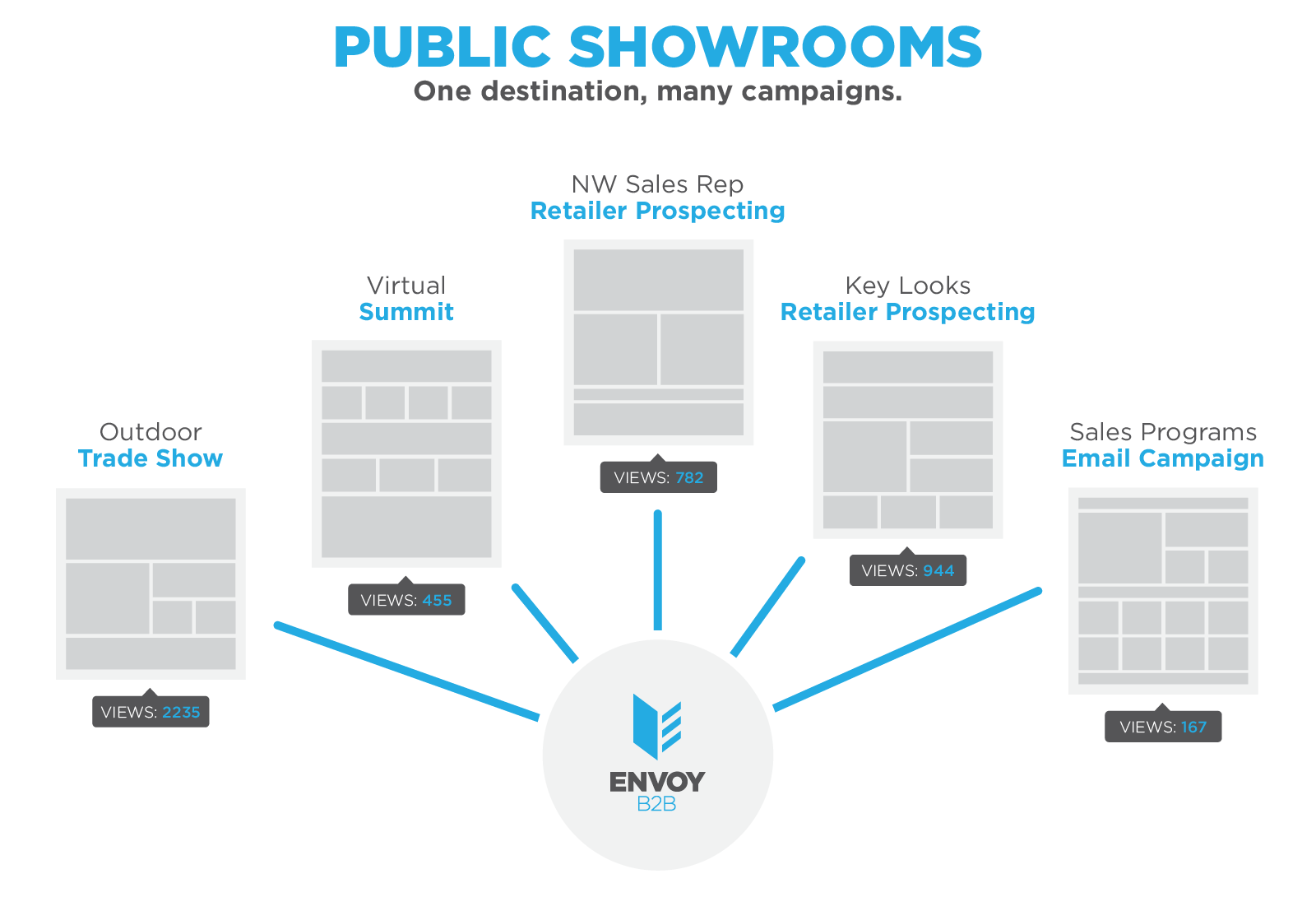 Put Public Showroom in the hands of your reps as they hit the field, looking for new doors. They'll have a powerful, no barrier, no login, full-on Showroom experience they can use to impress your prospective retailers.
Set up a Public Showroom for your direct e-mail marketing campaign to buyers, another targeting a specific territory, and another for any online trade shows you are attending. Reps can onboard retailers into the platform for education and a digital line showing. All in an interactive, trackable environment.


One Digital Booth, Many Shows

In the absence of trade shows and face-to-face gatherings, Public Showrooms are an opportunity to showcase your brand and drive buyers to book meetings or become a retailer.
Is your brand planning on attending online trade shows in the future? Use Public Showroom to amplify your presence and bring new retailers to your brand.
And best of all, you can create one Public Showroom and use it across many trade shows. Now your brand can get smart by tracking engagements across all trade shows, right in one place.
Interactive content, educational materials, product showcases, promotions – Public Showroom has it all. It's a powerful tool that your brand can use to build excitement with prospects, bolster your presence at an online trade show, and easily onboard new accounts.

Want to learn more about how Public Showroom can help you kick open more doors? Get in touch!