Even as online retailers dominate the business-to-customer retail market with intuitive software and data-based marketing tools, business-to-business wholesale transactions still tend to wallow in clunky, outdated software systems. Grand Rapids-based Appropos is on the scene as an early responder, working to help big names in the footwear industry reimagine the way they deal with retailers.
BUSINESS DEVELOPMENT, ECOMMERCE, HIGH TECH, HIGH TECH/HIGH GROWTH, TECHNOLOGY
It makes sense that Grand Rapids-based Appropos uses a sketch of an astronaut as an unofficial logo and a mascot of sorts.
Not only are the company founders an avowed group of sci-fi junkies — their offices at 678 Front Ave. NW are dotted with old space-based arcade game cabinets and Western-inspired Star Wars fan posters, and they plan to take the whole team on a field trip to see "The Force Awakens" tonight — but their growth over the past year has accelerated at the pace of a rocket launch.
Appropos specializes in business-to-business (B2B) software retail systems for footwear and apparel companies — that is, they make software designed to help footwear companies sell products at wholesale to retailers, rather than to customers — and their flagship app, Envoy, aims for nothing less than a total overhaul and update of the philosophy behind B2B transactions.
Where enterprise (that is, large-scale) B2B transactions were once dominated by outdated legacy systems and cobbled-together software solutions that were created by overstretched development teams, Envoy offers the promise of a single streamlined app, a "Swiss Army knife" of sorts that provides tools for marketing departments, sales representatives and retailers in one digital package.
Based on the growth of Envoy's user base and client list, major players in the footwear space are coming around to the call. The app started as a partnership with Saucony that had gathered around 2,000 users in 2014; as of December 2015, their daily active user base has cracked 20,000, and their client list includes Saucony's parent company, Rockford-based Wolverine Worldwide, and its other subsidiaries like Merrell, as well as major names like Converse and Crocs.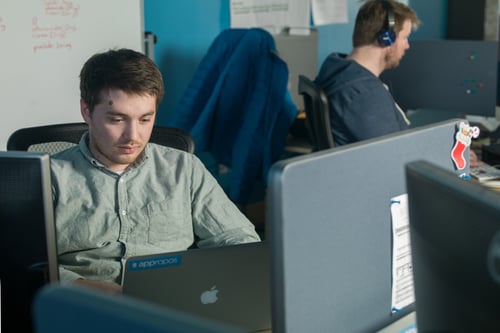 Appropops offers an additional companion service for Envoy, called Volta, which provides high-volume product photography and catalog design. They also announced this year a new app for campground booking, Campspot, and opened up a support office for their EU clients in Munich, Germany, bringing the company's total full-time staff to 22.
Appropos also began its first internship program for area college students this year; their inaugural program ends on January 7, 2016.
Envoy began in 2010 as a project for Saucony, an app that would help that company provide a custom digital catalog for sales representatives. Appropos CEO and founder Jon Faber and his co-founding management team of six came up with an app that Saucony put into use, to positive feedback from employees and overall success. Appropos shortly after started licensing a repurposed version of the app to other companies, hoping to expand their footprint in the footware and apparel wholesale market.
While Appropos initially envisioned their product as a piece of "bolt-on" software that would attach to companies' existing business-to-business systems and add capabilities, Faber says the Appropos team began to realize as they worked with additional clients that the existing B2B systems were often frustrating animals, lacking in basic features of modern retail software and sporting ugly, outdated interfaces. Faber says most big companies treated these systems as "utility" solutions, designed to get an order fulfilled with no frills. In-house development teams at these companies, he says, often have resources to do little else, leading to systems that were years outdated by consumer standards.
"All these retailers who were buying products from X client of ours used to have to log into a site that looked like — well, you know when you use the wayback machine on the internet and you look at what any Geocities page looked like?" Faber says. "Well, it looked like that. Most of their [systems] looked like that." [For readers who don't remember the look of Geocities, this Tumblr page has examples. It's bad.]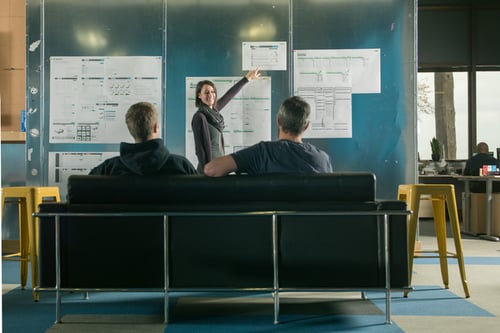 Faber and company decided they had an opportunity to build not just a "bolt-on," but a full-featured, robust cloud-based B2B software system. They bought an office and hired additional development staff to work on the project, finally unveiling Envoy in 2013.
The result is an intuitive, visually-pleasing software system for web and iPad that allows sales representatives and retailers to fill and track orders, check inventory in real time, and pull up digital product catalogs and promotional materials that are created and updated as needed by marketers.
The catalog features of Envoy are especially refreshing for marketing departments; Faber says he heard stories from marketers of sales representatives who kept garages full of old print shoe catalogs, never used. Rather than printing constant new editions of catalogs and even further updates for corrections or changes — never knowing which edition their sales reps are actually carrying around — marketers can create and update catalogs for iPad access and delete the old versions, or grant or restrict access to documents as needed. The catalogs are searchable, too, and can be sorted and filtered for the needs of a particular client or presentation, like filtering out men's shoes when the rep is presenting to a women's retailer.
Faber says that while consumers might not see what the big deal is with a 24/7 retail store with up-to-date inventory — features that any shopper at Amazon or Target.com takes for granted — those features are a revelation in the world of B2B.
"Retailers logging in and buying stuff, as well as reps — in their day-to-day home situation, they're interacting with all this great software like Amazon, all these [business-to-customer] experiences that are great," Faber says. "They want to do that at work, too, but they go to work and run into all this crap that doesn't work like they want to, and isn't real-time, and they can only use it in [Internet Explorer] 7. And we're solving all these basic problems, with a layer of innovation, branded and configured exactly toward their needs."
Faber also notes that even besides outdated software, enterprise B2B sales is an area that comes with its own set of challenges and quirks not found in business-to-customer sales. For instance, enterprise sellers often quote different prices to different customers; a particular big-box store might get a high-volume discount, for example. Some of their clients, Faber says, employed three or four different B2B software systems in a region just to accommodate different price points and customer processes.
"Wholesale is all about customer segmentation: This customer has access to buy this product at these certain price points," Faber says. "Our system is built so that it's not, you know, Joe Shmoe who knows that, and he applies that on the backend, and he calls in the order in and says, 'Hey, I gave you the discount, great job.' It all happens in the portal in real-time."
Appropos is betting that the wealth of new features and ease of use in Envoy will bring enterprise retailers around to the company's business model of "software as service" [SaaS, pronounced like "sass"]; that is, large companies paying a flat fee for a team of experts like Appropos to provide their B2B solutions, rather than trying to piece software solutions together in-house with a high-turnover development team that can't keep up.
"It's much more like a subscription, like Netflix or anything else," Faber says of the SaaS model. "You pay a flat fee and expect that it will work every day, they'll support you if it's down, they keep innovating it. All those expectations are involved with SaaS on the enterprise side. They represent client needs, and we represent B2B needs. Together, we can do all of it; for any one of us to try and hold all of it is a bad model."
Appropos' Volta service came out of another need the company saw as its client began to implement Envoy. In-house photography and design departments, they observed, often couldn't keep up with the high-volume production demands of a digitized catalog, where every shoe and piece of apparel ideally contains perfectly-lit photos from dozens of angles, updated with the most current designs, colors and features.
To address the special technical and volume requirements involved in producing photos for the catalogs in Envoy, Appropos put together a team of photographers and a dedicated photography studio near their headquarters, as well as on-site studios at the offices of several clients to gather shots of products in development that might only have one or two samples.
"We built this whole service aspect of Appropos and said, 'Hey, we're giving you this platform that is opening up a whole new world, and now you need content of a quality that matches that platform,'" says Appropos Chief Marketing Officer and co-founder Mark Johnson. "That's what Volta provides for them, so we can photograph to show 360-degree spins [of the product], build their catalogs for them — and we understand how interactive and cool you can make these catalogs. So we shoot the photos, build the catalog and drop it into the app for them."
Faber says that Volta doesn't obsolete in-house photography departments, but lets them devote most of their time to projects that offer more creative freedom, like lifestyle-type photo shoots for ads.
"It's not that volume photography doesn't take creativity and talent, but there's other values in it," Faber says. "Namely, consistency — getting it done on time, every time. That can be a more unique problem than some photography departments are set up to handle. We like to call it 'documenting the product' [for our clients]."
Appropos intends to keep Envoy and Volta focused on the footwear and apparel world, an area where they see plenty of work left to do, but where they've also built expertise and believe they have a big lead on their competitors in terms of software sophistication. They service five footwear clients now, of about 600 large enterprise firms in a footwear industry that transacts about $180 billion per year in wholesale business, according to Faber.
"Footwear and apparel, they have sort of their own language and way they do things, and we know how to speak that language already," says CMO Johnson. "Facilitating that transition out of a startup and into the next phase, that put those blinders on us: Now we know who to talk to and what conversations we should be having [in this industry]."
Still, Faber says the company isn't opposed to new partnerships when the fit seems right. The company's new Campspot app, which will launch within the next two business quarters at a number of Yogi Bear's Jellystone Park Camp-Resorts locations, aims to revolutionize campground booking by allowing campground managers to keep track of their vacancies and optimize their reservation, much the way hotels do today through web bookings.
"We're doing the same thing [travel sites do], with some very unique rules that apply just to campgrounds," Faber says. "And it also allowed us to say 'Hey, this will be another thing that could be a nice rotation for some of the team to get into, something that resonates with a lot of us here [in Michigan]' — which is being outside, camping, that kind of lifestyle."
Outside of an opportunity like Campspot, though, Faber says a big part of the company's maturing process over the past few years has involved saying "no" to a lot of people who approach them. For Appropos, he says, starting with a talented, seven-strong management team and working with a board of mentor-investors that they brought on allowed the leadership team to learn how to identify challenges and hash out solutions internally.
"I'm not suggesting everyone can or should do that," Faber says, "but I think for us, the tone that worked was: 'We can do it, let's figure out if this is valid. There's two or three people we're running this by, but we're not seeking validation from the community or a mentorship program or an incubator yet. We might, but not yet.'"
Faber adds that he doesn't want it to sound like the company doesn't appreciate the West Michigan business community and the range of options it offers for growing companies. The founding partners credit their work for Wolverine and the B2B experience they gained as "invaluable" in the later process of competing for work outside the region, and they say the leadership team is a group of local natives and "big fans" of the city who plan to keep their headquarters here for the foreseeable future.
Still, Faber sees benefit in Appropos' dedication to solving challenges in-house, even at the expense of getting involved with some of the local programs and opportunities for startups. He says he often sees entrepreneurs letting too many people reach in early on and tinker with the things that make their company or idea special — "giving away their kryptonite," as he puts it, by bringing in too many mentors and colleagues and contacts.
"I see people getting plugged into that whole process [of feedback] way too early," Faber says. "You should probably even have a customer before you're trying to involve people and get a lot of feedback to try and make [your idea] that much better. That's my feeling, at least."